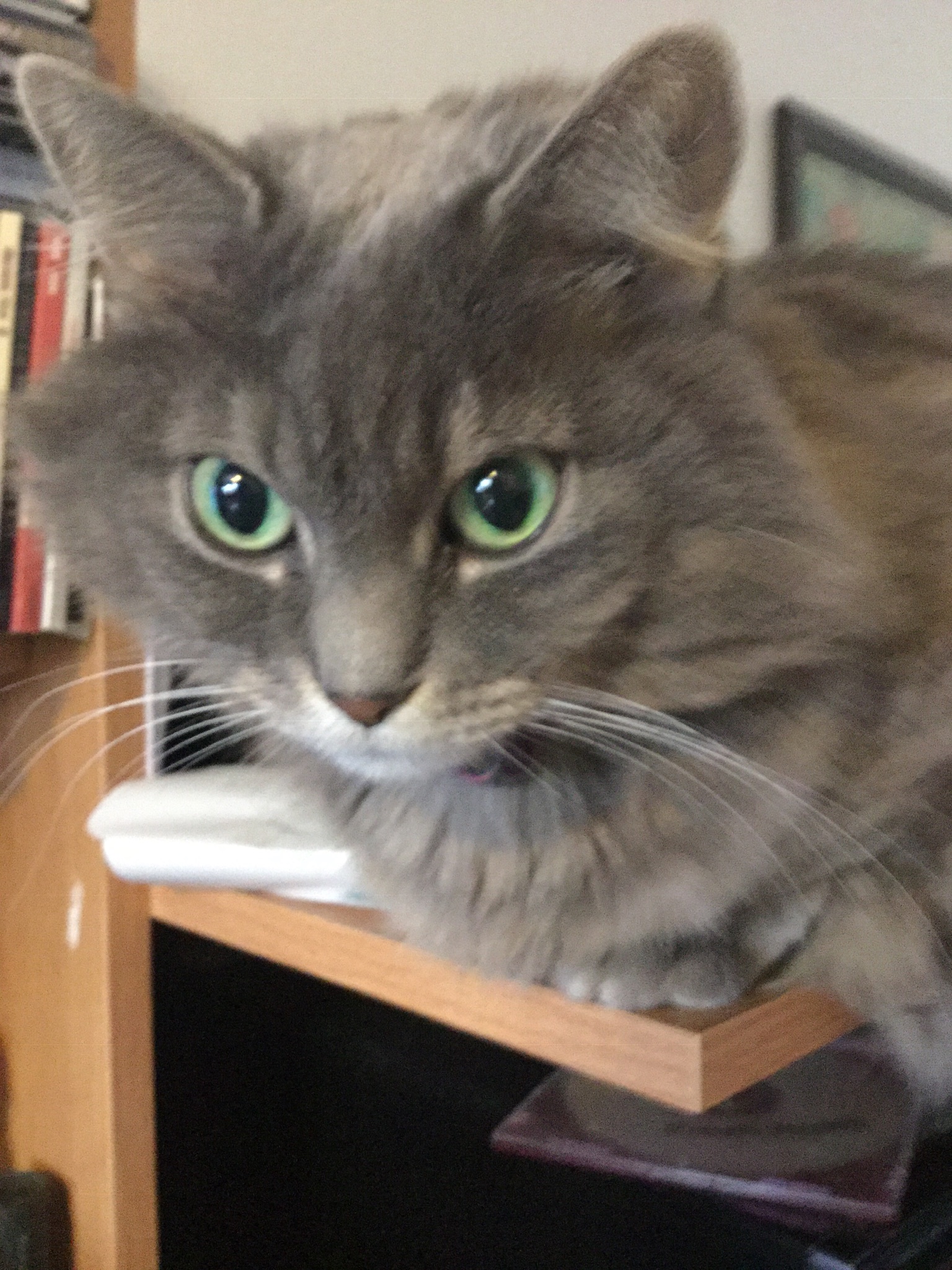 Posts

137

Joined

Last visited
Everything posted by Ryan Faulconer
Shawn Michaels looks like shit.

Good, that is a relief to read about. There were a few moments in that recent Nyla match where it looked like someone involved in that match was going to feel extra roughed up the next morning. I honestly can't recall an individual example…because there were just so damn many to pick from. That picture is from a women's bare knuckle fight event. That just makes Britt even more of a badass. Perhaps she is scouting for the next Frau Stroman. Mark Henry probably gave her a ride to the show.

As per F4WOnline…, Dr. Britt Baker, broke her wrist on Wednesday.

IT CAN BE TWO THINGS! I'm sorry for the outburst.

Unfortunately they did a second 40,000+ fans at the Georgia Dome. I say unfortunately because the second dome show was 1/4/99. Main event saw the WCW World Heavyweight Title change hands. The finish was a little something dubbed "The Finger Poke of Doom" by a few online. The entire show was garbage with no card announced before and 40,000+ fans in attendance. All those LOYAL WCW fans in their home venue were treated to an afterthought of a card and a show long angle that set up the sham of an angle in the main event. It was almost as if Bischoff and Pals were passive aggressively trying to take the company down intentionally.

Tony K should go full hype mode for this. He can do as much press as he did for 2021's Revolution, possibly more. He can actually claim that AEW has signed TWO of the best wrestlers of the past twenty years. Unlike with Christian Tony K would actually be UNDERselling it for once. Punk's presence on a GOAT list is highly questionable at best. He was a great talker and he had a really strong run in ROH (02-05) and WWE (06-14) and has since been canonized as the Pope of Wrestling Daydreams for the next seven or so years prior to his return in 2021. Danielson has no such debate. While he wasn't as dynamic with his speaking roles he more than made up for it in consistency, match quality, versatility and then he became a pretty good speaker as well in his own right. I would even take broken down Danielson over the rested and presumed much healthier CM Punk today. Punk might mean more in drawing and ratings but then this IS AEW here. If a guy like Darby can be a ratings success maybe fans will treat Danielson similarly. The name change is going to be an easy target for the AEWtheists. Cornette will make fun of nearly every name in AEW and how to improperly pronounce them for cheap thrills. Just watch him turn Danielson becoming Danielson again into another reason that Tony K runs an outlaw mud show….brrrt, just typing that made me feel 3% more sleazy and 4% slimeball enhanced. I apologize for quoting Corny. I can't apologize for listening because the historical portions of his podcasts is almost unparalleled in online wrestling coverage. I just shake my head in confusion and disgust whenever Cornette veers from his encyclopedic knowledge and falls into the category of unhinged paranoid delusions about current pro wrestling and probably anything else unrelated to wrestling.

In a much crueler timeline Nick Khan engineers a deal with New Japan to save their relationship with Daniel Bryan. A couple months later New Japan shows are showing up on the network to the delight of many many people. Unfortunately their "forbidden door" only swings one way like all WWE's alleged partnerships. New Japan is gutted and becomes a worn out husk. Like Progress and ICW before them, the New Japan many have enjoyed over the last ten years will be transformed into just another puppet regime like those UK groups mentioned previously. Long story short: It's a good thing Bryan Danielson signed with AEW!

Signing these two only means one thing..,,LOTSA LOTSA LOTSA 60 Minute Matches in AEW. Hopefully both will keep that fetish hidden. It couldn't have been all because of Gabe Sapolsky's overworked lack of creativity. Punk's trend towards long matches started years before he ever got into ROH. Danielson might have more creative ideas but that Aries match was supposed to go at least two falls of 60 minute draws. Danielson and Aries had a super-hyped 2/3 Falls match in August 2004. Everyone anticipated it going long when the match was announced. Thankfully the match capped off as "good" while ONLY going between 75-85 minutes, IMSMR. It is entirely likely that they haven't even had sixty minute dreams as years pass and both pass the age forty milestone. It might be even more likely that those two would see it as a great challenge for their 40ish bodies to overcome. The early 2000s had almost deified those who would dare follow the ring steps of Jack Brisco, Harley Race, two dudes named Funk, Flair…A lot of the times the "modern classics" that went the limit were ***1/4 matches that took an hour or more to view. For those agnostic to the star ratings scale I'd guess that ***1/4 can be either 63% or a C-. Basically a match like that could be "alright in parts, maybe a bit boring due to time given. A match half as long might be a very good match but sixty+ is..,," and so on. While times have changed I am hoping that tendency to go too long was curtailed as part of WWE training. Just keep that possibility in mind should Punk and/or Danielson sign. Those 60+ matches were nearly a staple in early 2000s Indy circles…with Punk and Danielson serving as the stapler…or something.

She might just be talking about those two having sex…I mean that imminently and so does Miro by the that look on his face. Or is that John Silver sitting in the upper right corner in the picture? Whoever it is I could have sworn that bald bulldozer of manliness was sitting "wearing" just a magazine on his lap and possibly nothing else. Maybe they just rented another tank for a blast from the past. Ugh. Every double entendres was unintended. The subject being what it is I can now see more. All unintended, I swear.

I actually thought she was released last year at the start of WWE's pandemic release epidemic. I could have sworn it happened..,oh well, that's all good for her.

The tape watching me would welcome any talent from anywhere in the world as long as they had a career of consistently reliable matches at a high level. The 2021 version of myself would concede that this hypothetical yet realistic ideal veteran workhorse needs to be fluent in English. The sort who can put the likes of green as grass Anna, Velvet, Hirsch, Abadon and Jade through countless reps. Then they are on their way to becoming several of the newest generation of US-based female fighters who set the pace, at least continentally, for women's divisions anywhere…anywhere on the continent. Of course! She can have blips of being a star or main eventer but it is more important to be able to work heel or babyface, maybe has a WWE run, worked tours of Japan/UK/Mexico and perhaps a stint working in SHIMMER/WSU/etc as an "Indy darling". Amazing/Awesome Kong would have easily checked all those boxes. I think she still works for AEW. Did she retire because acting, injury or burnout. I guess Ivelisse and Sara del Rey fit the description with bonus points for both being theoretically available. Ivelisse already had one go around with AEW. She probably won't be an option either because she is a really disruptive presence in the locker room and acts like a diva over everything. I tried to use vague terms when mentioning Ivelisse's name. We don't know her entire narrative as a professional except to say that she left early and/or on bad terms in almost every place she worked. So…we are talking realistically maybe 3 places for a rep like hers to take hold. Who knows what Sara del Rey occupies her time with nowadays?

Why are they using so many rookie women to begin with? Anna Jay and Red Velvet have worked out better than one would expect. Two rookies on the babyface side show star potential. That's ditto for the heel side starring Jade Cargill. They can't book the rookies as the stars, even though they are some of the biggest stars already. The experience in the division is left to vets like Serena Deeb 15 years, Allie/The Bunny 16 years, Riho 15 years, Rebel 7 years, Penelope Ford 6 years, Nyla Rose 8 years, Leva Bates 14 years, Hikaru Shida 12 years, Thunder Rosa 6 years, Brandi Rhodes 10(?) years…if Cagematch can be trusted everyone else has 5 or less years. Most would still be classified loosely as "projects" or "prospects" in the Women's Division. The division's prominent names including Dr. Britt, Abadon, Leyla Hirsch, Anna Jay, Red Velvet, Diamanté, Big Swole, Julia Hart, Jade Cargill, Kris Statlander, Tay Conti and then all that other non-contracted ladies of AEW that have a frightening lack of experience and ring time. I don't think Brandi can help the rookies do much of anything. Maybe she can be an expert on walking to the ring and looking like she owns the spotlight. She is actually great at those things…just not the wrestling portion of this pageant we call professional wrestling. Leva Bates has a lot of years but she would be better served helping with gimmicks or honing a personality. With all due respect whatever I have learned about Rebel usually relates to just how bad she is in the ring over her career. She is a good second for Britt - so she has 7 years experience and still looks clumsy and untrained whenever she actually does wrestle. AEW sure could use someone like Meiko Satomura on their roster. They really need…the female equivalent of a Christian Cage-quality worker. If they can pull someone younger but still versed in the styles of different companies from SHIMMER/SHINE/etc or WWE's discard pile then that would be even better still. Which veterans are even available at this point in time? Who isn't overexposed or settled into retirement? They could probably get a long AEW-style program with the supernova of the division, the AEW Word Women's Champion…somebody with a freakin' day job for crying out loud.

Paul Wight has actually improved A fair bit since he debuted just before "Evolution" this past spring. His first time ever in AEW programming and he a) called his current employer's upcoming PPV the name of a long-gone stable from his previous employer b) possibly caused expectations for the surprise to go off the deep end into completely ridiculous speculation territory. Everyone, including AEW, ran with the exact wording that Wight used on Dynamite that first night in. How often do these overhyped surprises actually live up to the hype? Since when do wrestling promoters deliver on the mystery and hype? It seemed strange to me that many online chose that week for promoters to live up to their carny projections for the future of wrestling as we know it. During the unfortunately beloved Monday Night Wars the surprises almost never meant anything meaningful outside of Kane and the birth of the NWO. Rick Rude meant something for about a week when he was on both Raw & Nitro on the same night. Kelsey Heather just did the same thing yesterday on RAW & Dark: Elevation. While Heather's appearance won't be confused with a hyped surprise she and Rude will be two answers to the same trivia question in the distant future. Anyway, I assumed Wight's improvement was mostly unanimous amongst Elevation watchers. As small as we are as a distinct people in the DVDVR/PWO subculture I thought Schiavone's renewed zeal for pro wrestling was both unquestionable and unquestionably better than his last years of work inside WCW's toxic atmosphere. Aside from Excalibur's awkward introduction of TAFKA Tommy End I have a difficult time seeing any problems with his announcing in AEW…particularly Dynamite and PPv. Those last five years or so of WCWSN had plenty of levity among commentators ranging from Scott Hudson, Mike Tenay, Schiavone, occasionally Herman and the biggest riffer of them all - some larger than life goofy guy named Dusty Rhodes. Pro wrestling really needs some newer knowledgeable voices. Excalibur has been doing this job since 2003. For those unfamiliar with him -what he did on PWG shows could be seen as a shift even further into Dark-style Laissez-faire wrestling commentary. He is much more structured in the traditional play-by-play style whenever matches with big stakes, title matches or key BOLA matchups. He would later add Dynamite and PPV to his work resume. He has matured somewhat…into a mask wearing announcer. He never won the Wrestling Observer Best Announcer when he was working his goofier self in Dave Meltzer's pseudo-guilty pleasure promotion in PWG. I guess there is Mauro…

What is the word on the street about Tuesday's Dark lineup. I saw what I thought was the complete taping results from July 7's Road Rager Dynamite. There were 17 matches on Monday's Elevation. When I saw the list of taped matches from last Dynamite I figured that we would get an 8/9 or 9/8 split spread across Dark Elevation and Dark. Man, they really need to fix the names of their YouTube presence. Why would you name a second show nearly the exact same name? Does Coach Tony K want to fulfill his fantasy of booking similar shows like Shotgun Saturday Night and Shotgun in his very own promotion? He is truly a weird and goofy man. We can't feel too mentally superior to him though. We are the same. We are all the same as the booker of AEW, y'know. That explains why we are all Billionaires like he is. I think…

Hopefully Hero switches to an alternate timeline and immediately signs with AEW. I.am glad that he has had time off to rest and recharge his wrestling batteries. If he is unfortunately not able to wrestle I would also prefer he be in AEW. He has trained some prominent names in North America and Europe. He would make a perfect coach for trainees and an agent helping during shows. While he isn't young at this stage he is ridiculously experienced with working and training credible wrestling names for more than fifteen years. His experience working/training wrestlers from the UK, Europe, Mexico, Peru, Canada, Japan and that middle country in North America make him well versed for almost any locker room you could think of in 2021. If he does settle into an agent role in ROH he will do a great job. ROH sadly mistimed their peak years but someone like Hero could help set a standard behind the scenes that could hopefully build towards future artistic and workrate standards they had from roughly 2004-2011ish. Hero can also serve as a knowledgeable if not also entertaining commentator for TV and PPV. That last attribute makes him a great fit for my current favourite wrestling in AEW. Should he also be able to wrestle then my interest in his employment increases ten fold. He is just THAT GREAT. I thought I read somewhere that Hero and an EVP or two have issues. ROH might be where he settles. Should Hero actually wrestle for ROH then I would feel equal parts great enthusiasm and a minor obligation to follow and/or actually start watching ROH regularly for the first time sincerely 2012.

Danny Limelight signed with MLW. I am pretty high on him after seeing every one Of his Elevation/Dark/Dynamite matches in 2020-21.. Limelight vs Felix gave me flashbacks to Crouching Tiger, Hidden Dragon. That film came out in 2000 but Limelight was hitting the ropes and flying in a way that I haven't seen since the tree fighting scene in CTHD. Limelight would also use the outside of the ring ropes much like the already awesome Rey Fenix. He had several matches that allowed him to really showcase his mad skills, yo. AEW really doesn't need a great prospect at this stage of their development as a promotion. Limelight seemed a lot farther along than the guys in Private Party or Top Flight. He can work the crowd better than babyface Private Party or the Martin Brothers - at this early stage in their careers. AEW doesn't need another flyer right now…unless he was already a star with a following his/her fans will jump with from wherever an unnamed hypothetical star quality high flyer works in 2021. MLW could probably use someone like Limelight more than AEW does. Tony K can always send Kris Statlander and a man-sized bag if AEW should decide they need him. The two promotions also seem to have a good relationship for future sharing agreements. That is probably the way to do business, Tony K.

Omits probably thinks TK is a literal talking money sign. Maybe it has arms and legs or maybe it doesn't.

With all the press that CJ Perry (TAFKA Lana) has had recently I stumbled upon the stupidly infamous engagement photo. She has said that someone she sent it to must have leaked it. After seeing the picture for the first time I thought Miro resembled a certain Hungy Meat Man, John Silver. Miro looked like he would be right at home with the Dark Order. If he kept that look he could have been Silver's twin…or at least his older brother. Would you rather fight a Miro sized John Silver or 15 John Silver sized Miros?

ugh. Youth is wasted on the young… Cue up new #BTE skits where the Dark Order act like protective big brothers…by beating the shit out of Griff Garrison. This is the DarK Order on #BTE so…they screw up. Last scene is Negative One demanding the papers. They get rolled up and…fade to black with probably Alan Angels' screams heard in the distance.

Fans clearly don't want whatever the last twenty years of a mainstream monopoly on pro wrestling has given them. If the opposite of the last twenty years is long story arcs and characters that change then that is what those fans want. Wrestling has had so many raging madmen evil geniuses, lucky underdogs, family feuds, violent drunks, psychopaths, anti-social anti-heroes and manic depressives. Adam Page is a depressed drunk. Kenny Omega is trying to be Machiavellian with every move he makes. He ends up looking delusional. He isn't delusional when he boasts about his talent and accomplishments. That earns him credibility…which he continually mortgages against his huge ego. Fans loved him until his delusions of grandeur turned him completely after he beat Moxley.

I'm not usually one to join the line and state my daily grievances against the Elite. I have to comment on the Young Bucks' wrestling style or apparent lack thereof. -They do so many power moves against opponents who should be throwing Matt & Nick around. In any of the big Bucks' matches.,, - Matt does the Road Warrior double clothesline against two opponents - who are almost always much larger than the Bucks -I assume it is Matt again because rolling Northern Lights Suplexes is the kind of power spot that he seems to love performing. - Matt will double suplex the challengers in almost every match. Worse yet is that he blocks BOTH opponents only to double suplex them himself. - They kick out of more finishes than the entire All Japan roster during the 1990s. -Can they maybe TRY and lift a weight or two on occasion. They look so soft and doughy for guys who are supposed to have graduated to heavyweight a few years ago in NJPW. - They always ALWAYS go five to ten minutes too long. They did that every time in PWG as well. Years ago I thought it was a PWG staple that a great match gets downgraded to something less. This all because they can have an exciting match with the perfect ending stretch. They avoid perfection on principal just to get 5-10 more minutes of near falls and almost unbelievable saves after numerous death blows have been used up. I don't dislike the Bucks as a rule. Nor do I think the heel act is growing thin. They can be perfect for jr heavyweight tag team matches in New Japan or when they were young yet still brash yet even still underdogs in the classic sense. Often though their big match will be full of spots that break the logic of pro wrestling.

My first thoughts when I saw this pic were very confused. It looks like a prison or prison set up for visitor's day. Between the paint colours in the background and the "happy family" the pic could be mistaken for. I have ingested too many Law & Order variants plus the predecessor Homicide (Not Nelson, Ha Ha!) the last few years.. For a split second there AEW was doing some rather unorthodox community outreach in Jacksonville prisons. They should really reconsider who they send on these trips to alternate reality.

For sure. It as just a silly reaction on my part. She is just as pretty with darker hair. I just have a fascination when people dye their hair. Tay basically has the same hairstyle as Shakira from the 2000s. The fact that she wasn't blonde is quite obvious. I have difficulty picturing Tay Conti in that toxic WWE environment. in 1990 Sinead O'Connor had her big hit with that simple video. It blew my 13 year old mind. If she hadn't gone with the bald look as an anti -commercialist statement she might not have become as popular as she wound up being during that time. Tay Conti's squash matches are some of the best in AEW. Doing the judo throws en lieu of the usual arm drags or hiptosses makes her stand out as special just that much more. The first AEW Women's Tag Champions should be her and Anna Jay…of The Dark Order! AEW might need a couple more like Ruby Soho/Riot, Chelsea Green/Hot Mess Van Ness, Cassie Lee/Peyton Royce, Jessica McKay/Billy and maybe Thunder Rosa's tag partner-Holidead. They have enough wrestlers for the belts but 2-4 extra additions would be needed. Without a few more additions or at most two teams I can see the damning "why am I watching this?" blurbs will infect women's titles' matches like they do in Elevation and Dark threads.

Damn no. I probably should have left that part out though. Tay Conti said on Unrestricted how much Brodie.Jr. means to her. He lost his father and was adopted by the locker room. Tay in particular seems to have taken on a sisterly role. Ugh. More releases…in a perfect world they could go to MLW, NWA And ROH. WWE is trying to blow up AEW's salary structure and locker room morale. WWE should release that pothead Matt Riddle and that spot machine Ricochet too! So many of today's cuts have roots with either powerful people or a lot of people in AEW. Johnny Curtis was someone that every wrestler from OVW used to talk up like he was better than anyone who wrestled there. The formerly 3.0 team probably has some AEW friends from their Chikara days Tony Nese used to team with Alex Reynolds…they don't need any more members unless they just happen to be a certain cowboy we all know and mostly love.

Well, she is finally outed as a brunette. I had my suspicions but now there is irreversible truth to back it up. Don't watch Tay on AEW Unrestricted. She is adorable. That Negative One is a lucky guy…He (they) should get her inducted into the Order. Maybe they are waiting for Anna Jay to come back, take the leadership as a sort of queen regent until Brodie Jr. is old enough. Yes, the Dark Order has invested greatly in their future. They will be recruiting Adam Page while being under appreciated as talents for at least another ten years or therabouts. Good times.