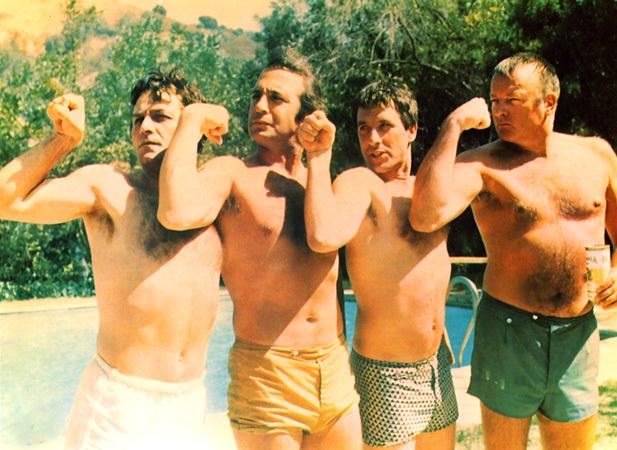 Content Count

264

Joined

Last visited
Community Reputation
220
Excellent
I agree. I really wish after he hit the standing bionic elbow that instead of going for the cover he first hit the Bionic Elbow drop.

This might be a good idea for JImmy. There are a ton of guys with poor facials that I think would benefit greatly from covering up. Actually, of all ppl, I keep thinking Bullet Club member Taiji Ishimori would benefit from a hood. I say Ishimiori because he seems like such a nerd when he tries to show emotion with his facials. There are a lot of guys like this. But yeah, solid point.

@ZartanHavoc does wear a shirt. An unstylishly cut tank top. Yeah, the black jeans into those kickpad boots is.... Havoc's look is so bad that it's a bit hilarious.

For that reason I'd say Wardlow would be too similar to Jericho's Hager. Ace Orton was more of a second in command than simply a 'bodyguard'. Tho, he was always referred to as such. @Niners Fan in CT I remember that Ibushi-Naito review a bit differently. Dave was suggesting why they do it rather than making excuses as to why it's right.

Cody/Jericho rewatch: I liked this match on first view, but second view it feels like a near masterpiece. MJF needs a bodyguard like Ace Orton immediately. Hammerstone would more than due. Thinking on this stip: I thought it was gonna be harder for Cody to get back in the title picture than it is. I mean without a blatant or lame renege Simple enough, the current champion some time down the road sees Cody as a proving ground to defeat. Any number of reasons why that could be. Also, the crowd seemed much more alive, and louder, watching the replay with headphones. First time around I watched it on my television thru a soundbar and it seemed really dead.

Hmmm, I seem to remember various times throughout this company's short history where tags were made to backs and shoulders etc. I don't quite get the logic how a tag to your partner's foot wouldn't be valid. #ImWithJR

Just a quick note concerning B/R Live: Nothing but excellent streaming last night. Also, the replay was available around midnight. The previous mentioned replay starting Sunday morning didn't end up happening. Maybe they meant the PPV wouldn't be available till Sunday - Midnight being Sunday. I'm also pleased with the fact that I can continue to stream this on b/r live. Just having a second look at LAX-Bucks and Cody-Jericho.

Referee Rick Knox needs to be publicly reprimanded for not allowing that tag from Ortiz's boot to Santana's hand. WTF!?

Well Said. As to the talk of some of the lower card, I too have come around on Cutler as a solid enhancement talent. I completely agree concerning Shawn Spears ie. politically a good msg to disgruntled WWE talent that you can have a shot to do your thing here in AEW. I've been saying this from the beginning. Tho, I do think he'd benefit from a tag partner. He's fundamentally sound, but hasn't shown enough distinct qualities to hush the critics. If they find him the right guy to compliment his undervalued fundamental skill set, somebody with what he doesn't have, and with Tully as the corner man, a tag team mastermind, I think they could have a really good use for him. Joey Janella has certainly grown on me. I liked his charisma and talking ability from the beginning, but still feel like he'd be better served in a more traditional hardcore uniform/look. With the right look tweak, whether it's the change of gear or he gives himself a more physically imposing look I think he could be one to watch. I expect the Dark Order will also be darkhorsing around in AEW in the months to come. The lights out debut and follow ups really seems to have hurt them. It made ppl think they were being pushed to the top of the card, but they've needed time to build. They cut a promo on a road to or BTE some time back that proved to me that Uno's got the goods. They need more of that. Also, how are ppl watching them and thinking they aren't fantastic in-ring. They have some of the most dynamic double teams in the company. They also have great individual offense, and the ability to reel in the greens. Tho, I thought more of their bout with Private Party than most. Anyway, I don't get the hate. I love these guys. Uno throwing on the upperbody gear was also a smart progression. Now he looks no more out of shape than Foley or any other successful hardcore imaged wrestler we've seen previous.

Jericho in that scrum suggests the Inner Circle will go down as the greatest faction in wrestling history. 'never mind the Four Horsemen, NWO, DX, Los Borricuas... who are the motorcycle guys?' 'DOA'. 'Better than those assholes'.

Absolutely. Early, there was so much irrational talk about Cassidy being a bad signing, but he's already proven himself worthy and both the crowd and critics seem to be coming around. He can definitely go, and I expect him to be an actual big star and draw in 2020. Jericho/Sammy vs. SCU for Dynamite! Right on! This is fantastic...

I'm not sure we know enough to suggest Havoc will be fired. Khan, during his media scrum, laughed it off. That might've been for the public as the questions all seemed kayfabed (at least the beginning), but regardless I don't think we know enough to suggest a firing. I don't think Havoc is as bad as most, but he desperately needs a new look. He looks like a generic forgettable 'garbage' wrestler. Watching him I have a feeling he's got more than he shows in these 'hardcore' bouts.

Hilarious listening to Meltzer and Alvarez whine about the Omega-Moxley match. This style isn't generally for me, but I really dug this. They built to it and delivered it beautifully - the shock and surprise is a bit boggling. I liked the way they gimmicked things that did not feel gimmicked at all. I hope they're going reverse and this leads to the straight up wrestling match. Awesome effort and I really hope it does what it set out to, and generates some buzz. And all that said, I'm with the consensus that this kinda match ought not happen again for a long while. Anyway, great use of the hardcore.

@LoneWolf&Subs I didn't love the dress-up angle, but the character of Pentagon Jr. does seem unhinged enough to both find himself in that position and also kinda fall for it. Prior to AEW, I'd only seen the Lucha Bros a couple times doing pretty blah MLW TV matches. They seemed overly contrived. Even when AEW started I was not sold. I'm now with all of you who profess your love for these incredible performers with every show they perform on. They're so good that it's hard to accept them in matches where they either don't win or are not beaten convincingly - like the 3 way. I agree on this. LAX, as well, I'd never seen them before debuting in AEW. They've won me over from the get-go. Santana and Ortiz have so much potential - both as a team and down the road as singles. They have a lot of charisma. They're gonna have to keep giving them reasons to be hated as they are both very naturally likable. The Countdown show sold this even more. And lastly, I really hope this leads to either a 6 or 8 man tag with the Bucks/Rock n Rolls against the Inner Circle. Great to see the RNRX get the deserved respect.

I like that I feel concerned when I see blood in this promotion. Prolly thanks to Dustin's Muta scale DoN blade job. That Cody dive 'he hit his head' sell and blade job was glorious. I was tense watching Omega and Moxley. Moxley seemed to be bleeding from the neck at one point.