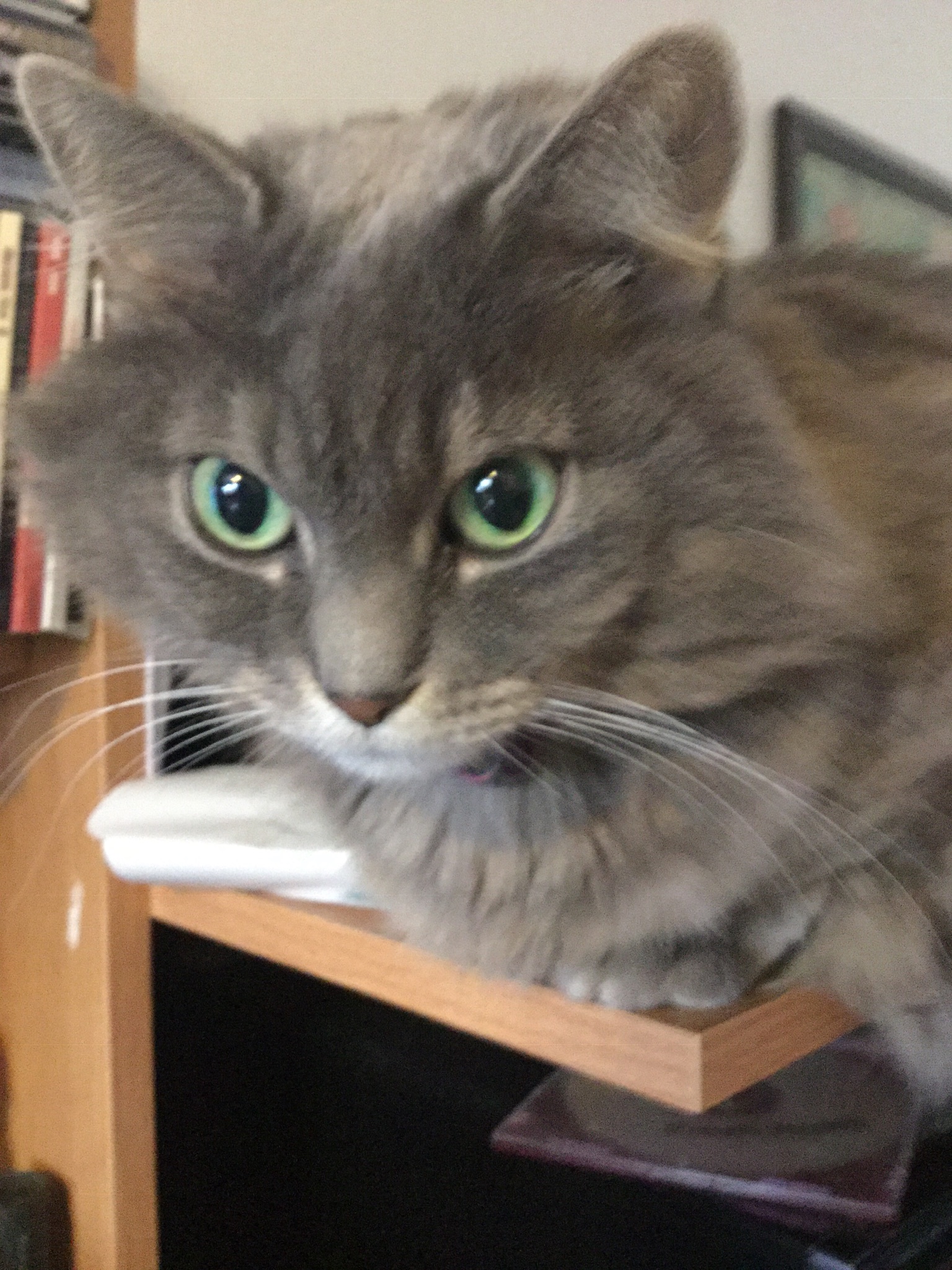 Posts

158

Joined

Last visited
Everything posted by Ryan Faulconer
I' m pretty sure it was mentioned both on the show and in this thread BUT of the popularity of the grilled cheese sandwich I will answer your question... Alex Abrahamtes is usually the regular Spanish language announcer for AEW, part-time BTE character and Penta El Zero M's interpreter/translator. There are rumors that he is not translating Penta's words honestly. He MIGHT be using the position to get over his problems with Cody. Penta wants to fight Cody but it is Alex who added the insults that pushed Cody's buttons. Adding tomato to regular grilled cheese is a good introduction to fancier grilled cheese. There is/was a Grilled Cheese restaurant the last time I was in Toronto. The clubhouse twist on grilled cheese was excellent.

Would you settle for being Orange Cassidy'd? We gotta stay on brand with your preferred choice of punishments.

I don't know...AEW has a lot of bald wrestlers with beards already. If I can be serious for a minute... What is Hideki Nishida/HAYATE doing lately? AEW needs some Monkey Magic~!

The AEW Bucks are the worst babyface in AEW. Callis is right. The best Bucks are the New Japan/PWG Bucks. They were really great as foreign heel flashy juniors. Their best matches are only in New Japan or PWG multi-mans. AEW Bucks are good but I'd rather watch two of the three Dark Order teams than Matt & Nick in two on two bouts. I always thought the Bucks were pretty likeable on BTE. I haven't seen more than a couple BTEs since Brodie Lee passed away. Then again I used to watch WCTT's show on the 'tube way back in 2015-2016. Joey Ryan is pretty damn sleazy but he seemed like an act back then. I was very very wrong. I don't know what to think about Mike Tyson in 2021. People deserve second chances but he was a pretty messed up dude for a long time. That isn't even considering his rape conviction. I figured -1 would be kept off the show for sure. I was wrong...again.

I wish we could hang a big "Mission Accomplished" banner over all the AEW forums. Starting next week the "war" is over. Hey, I want as many eyes on wrestling as possible too. We are not advertisers. All it amounts to is people looking like children as they try and blow out their birthday candles so their wishes will come true. That is the relationship fans have with ratings. Thank God this horse race is over. Ratings can go back to meaning a little less than they did Wednesday nights in the before time, long long ago...in September 2019. What is important is the ridiculous " arms race" for talent that WWE never wants to lose. That is why there is so much talent working a two hour wrestling program. Should Tony K hold up on signing new talent then WWE and their zest for life will just sign twenty people at once "just because" while some of the best talent anywhere is left to rot on the vine...WWE exclusive vine, of course. Did WWE really need to gut the UK wrestling scene entirely just because WoS was starting back up? AEW wasn't even a fantasy in Matt Jackson's notes for BTE when a huge swath of my brothers and sisters of the Commonwealth were swept up during spring cleaning for NXT/TPC. Coach Tony K remembers. That is why they NEED as much talent signed as they currently have...and maybe more!

Is there a rhyme, reason or mathematical formula for how they rotate the jobber class? It made sense using mostly Georgia-based talent for an extended period during the early months of the pandemic. Then there is a group of them female fighters from Thunder Rosa's promotion. They seem to be searching the country with talent coming from all parts of the little neighbour to my south up here. They are still finding some interesting untested prospects who haven't yet done more than a match or two on Dark. Last week Bill Collier, Chandler Hopkins and Rex Lawless foot added as potential for the future. I think they have "discovered" Anna Jay, Red Velvet, Leyla Hirsch, Abadon, Lee Johnson, Will Hobbs, Shawn Dean, Top Flight, The Acclaim and maybe count Starks, 5 and 10. I must be forgetting someone else hired because of their Dark work. I'm not sure how kayfabed the Nightmare Family is. Are the younger names all really trained by QT or Dustin? Speaking of Dustin...If he works with all the inexperienced female workers can he maybe stop teaching everyone the same snapmare/somersault/reverse thrust kick? EVERY SINGLE female trainee does it...and few do it well!!!

A couple of those matches were definitely on the list I saw...or maybe it was all a dream. Weird. I guess this is a world where Michael...or MT Nakazawa gets a new gimmmick and a small winning streak. I hope for our sake that this world is a small one.

I should have listed the four matches that were mentioned on cagematch. I think they were all matches that were angle related. Normally I just wait and read the f4wonline headlines. I saw Dark #83 already slotted on cagematch's AEW events. Well, one of these shows should have a format change. I actually get a little burned out during Elevation. This is Week 4 and I haven't seen the final match on any of these first Elevations. I fell asleep and missed the Sydal/Tony K angle. I remember seeing Tony K on an older BTE and he had maybe the least stage presence that I have ever seen in AEW or the Indy level.

Checking over at cagematch it looks like there are only FOUR matches on Dark tomorrow. I hope you guys are happy now! That robs us of ten to twelve squashes and everyone's favourite - the competitive squash. How do you sleep at night? If this is a sign of things to come then I will miss the Dark that was as engrossing as it was bloated and somewhat aimless. it will make Elevation an easier chore on Mondays.

But is he lazy? A Kevin Nash Cat would be sooooi lazy. His paws have some of the laziest wrestling boots to fill. The Maine Coon(?) named Nellie reminds me so much of the three furry mush machines I have had over the years. I only have pics of the latter two. I promise to return soon with pictures of my two current cats. I have shared home with 15 cats in total over the course of my 44 years. There were a few more but they just had a little kitty cup of coffee here in between whatever stops they made on their travels.

Please, they are obviously doing important work in butt stats. That's God's Work going on there. AEW has used several wrestlers from Brazil for Pete's sake since they started in 2019. I look forward to the results! Brazil~!

I thought I would add here how easy the hypothetical 6 man (person?) title tournament Dark Order team #1 Dark Order Team #2 plus Cabana or Adam Page Inner Circle (Jericho/Sammy/Hager) Jurassic Express Pinnacle (probably either FTP/Sears or MJF/Wardlow/Sears) Pretty Picture (Avalon/Bononi and one of Drake/Nemeth) Young Bucks & Brandon Cutler QT Marshall/Nick Comoroto/Anthony Agogo/Solow - any 3 of the four Dustin/Lee Johnson/Gunn Club or Cody/Dustin/Lee and the Gunns get their own story since they probably have most wins Best Friends & Orange Cassidy Death Triangle or Lucha Bros & Laredo Kid...and if that then ... Pac & The Hybrid 2 who teamed on Dark SCU until recently Team Taz but they are not long for this world as a trio Kenny & Good Bros Hardy Party or Matt & BB&B Kingston was with BB&B..,they would have been cool That is easily at least 12 regular teams. The 6 Man rankings are a joke though. They just keep giving Gunn Club a loooing winning streak as a trio. The Gunns could make for a simple upset story by a less "familiar" team. Gunns are just a gimmick to overcome by less established teams The number of regular trios can't be a coincidence. Almost every 6 Man tournament is heavily padded with new teams. The depth in AEW is incredible. Only Dragon Gate or CMLL could book easier trios tournaments. They can add some true jobber teams to fill out a 16 team bracket. "Traditional" wrestling logic usually caps these at eight teams. Chikara did a great job with King of Trios for a significant period in 21st century North American wrestling. The draw for those was usually the outside talent that would get booked for the three day event. AEW won't be quite as wacky. Some will see that as a good thing. Some will see that as a bad thing. Hopefully there aren't too many on DVDVR or PWO that will ask "What the heck is a Chikara?" Some of them will make me sad

Until tonight's full turn by Mr. QT I actually started to think that Cody was going to turn. QT & Comoroto going together looked possible from the moment Comoroto joined the true Darkest Order - The Nightmare Family. Four wrestlers going heel really brings the group down to a more acceptable babyface stable size. I hope they didn't add the Gunn Club that far ahead in order to pad Cody's team for a hypothetical War Games down the road. That would be terrible. QT/Solow/Agogo/Comoroto vs Cody/Dustin/Johnson/Gunn Club quota is a revolting idea for a two ring caged blowoff. The goal is to just run QT'n'Pals vs Dustin/Johnson/Gunns Quota to get everyone besides Dustin, QT and Billy more XP. Cody would stop in every so often and for the final CodyQT barbed wire bull rope match. Until then it sounds like a decent feud to organize some guys with potential matches for many weeks to come. I can't believe I am actually excited for Trent's return. Trent seemed like someone designed for tags. I have never been too interested in Chucky T. He is part of the reason I stopped buying PWG in 2017. A tag division with a healthy Best Friends is preferable to what we have had during Trent's absence though. It dragged down Orange Cassidy and distracted his character's journey in AEW. Thank Gawd this feud is over finally. Arcade Anarchy wasn't as good as the brawl with P&P. It was sufficiently wild and violent and that is good enough for the blowoff. Statlander is a welcome return. She has had bad luck until now. Perhaps an Orange & Alien pairing will give them some direction.

For a second I thought you were saying that JD Drake joined a stable called the Winner's Circle. With Drake and Ryan Nemeth together I fear a Peter Avalon & Cezar Bononi conjunction of wannabe JTTS. Then you have the criminally dismissed Chaos Project that is teetering on the edge weekly. A less restrained booker would try and pair Marko Stunt with Serpentico. Or he could just join JE after the built up and blown off split with Luther. Poor John Skyler is in for a long week tonight.

I thought BB&B explained the white outfits on AEW Unrestricted. Originally the white was supposed to be their super ass kicker alternate "uniforms". They only wear them in street fights or grudge matches. It was a riff on the "butcher" vibe. They like trying things that are not quite wrestling related but add to their overall presentation.

With MJF not being champion yet I thought he was a lot more like 4H Tully than the top dog spot. Flair always had fans in 80s kayfabe who wanted to cheer him. Even prior to the 89 Steamboat series it felt like Flair was only a competent heel challenge away from getting a majority cheering fan base. Flair and Tully were pretty close in their vices. If we were counting virtues Tully would lag faaaar behind Flair in the hearts of wrestling fans. At this point MJF doesn't appear to have the history or complexity in his character to be THE MAN...as the leader in the newest attempt at playing Horrsemen. MJF shows some diversity in his character as he shmoozed and then plucked TIC. Maybe after a future face turn he can turn heel again and have the leader qualities of a Flair. As it stands now he is more like a true Tully 2000 than he is Next Gen Naitch. Watching him in the 80s I could never picture Tully as a babyface. Now that I see him as an old man I can go back and tell my past self that Tully could do it.

That damn auto-correct! It must be run by Lucifer himself.

With the match taking place on 3/17 I wonder if Tony K or the ladies had visions of Villanova III vs Atlantis from 2000.

It sounds like Thunder Rosa has put too much into "her" brand during her career so far in two "fighting" disciplines, IIRC, has said as much on AEW Unrestricted.

re: fuck Shawn Spears and similar takes... Okay, that's just uncalled for - hopefully that looks like the "10" gimmick. My eyes are so bad and those emojis are getting more detailed that it is really just a guessing game.... Spears hasn't said a word, wrestled a match or anything else apart from interfering at Revolution. He has mostly wrestled on Dark before he did that confusing angle with Schiavone. Does he really just have so much ill will from jumping and being over pushed? He isn't established enough elsewhere to have residual heat with posters that crosses promotional lines with him when he jumped over. I am warming to the fact that Cody is the most ludicrously booked guy on the show. He often delivers with big matches but he is so directionless. They don't commit to any single idea. He is probably paid too well to be used as a utility player - if that term means anything to those not into baseball. He should be in continuous feuds at the very least. Not losing to the guy who is going to put you on the shelf for various "reasons" is not helping anyone. Maybe he can get stretchered out...by QT and The Freakbeast. That looks far too convoluted for an angle that could have ended last week. Pentagon could have injured him last week and that would set up nicely for the big return. I wonder if Cody knows how bad his injury is? He could be trying to put off the inevitable surgery. Hopefully he won't be out as long as Anna Jay might be.

This was the worst Limelight match by quite a lot. Check out Fenix/Limelight from a couple months ago. I will have to rewatch some of the show. I wasn't paying attention to the Sydal/Omega stuff. Tony K must have been desperate. To put himself onscreen as Plan A could not have been in his dreams. The real high point of AEW today was learning they signed Leyla Hirsch. When does Ayako Hamada get out of jail?

He opens the really tough pickle jars. How can Taz open those big jars with his lil' baby hands? I have watched a lot of rudderless Spears matches on Dark. I am honestly surprised that they didn't go "all out" with aimless Spears and give him the electrifying Heart Punch as his big finish. They get awfully close to HP-level when he was doing those anti-climactic black glove shots after the match had ended. There was never any spark to his attempted beat downs. A toolsy cypher like Shawn Spears can be easily repackaged after being quite below the radar for fans and/or haters. Why is the guy so married to his awful haircut? He has sorta changed looks over the years but that damn eyesore of natural headwear remains to his present day form. I missed a chunk of AEW after the first month. Has he been given anything to do in between the Cody feud and his association with Tully? The Scorpio Sky feud.could have been fine for him. That just sputtered out. Then he "quit". Between aligning with Tully and his Scorpio Sky spat all he had was the angle looking for a partner on Dark. Heck, he could have joined the Dark Order before the Beaver Boys - Silver and Reynolds name dating back man y years. H could have shown...something. Then Brodie Lee can show up, destroy him and assume proper leadership. Reboot Spears into a tag team and go from there. Apologies for unleashing the booker inside. Tony K has shown us that freakin' anyone can make theswitch from posting here to winning accolades for fantasy booking. His hundreds of millions of dollars buy a lot of credibility and/or goodwill.

Hook hasn't been pushed at all. He is the equivalent of Pharaoh's role in the Nightmare Family.

Unfortunately this is only a two party system. AEW probably feels like they need to keep up with WWE signing practices or else they might not have any talent left to sign. Wrestlers will still feel the the urge to go to New York. AEW isn't the promotion workers grew up watching. They need to look the other way, figuratively speaking. Big goofy project wrestlers are not their future. Alright it's Nick Comoroto on Dark! D'oh, he isn't wrestling

Bigger, more important matches have survived and remained fondly remembered. A smart angle on Dynamite can make up for the misfire. Lesnar/Angle from WM19 had a nice little legacy for itself. Time and over saturation of WWE overall have brought that match's rep down a little. I think of that as a much bigger stage with much more at stake in many levels.