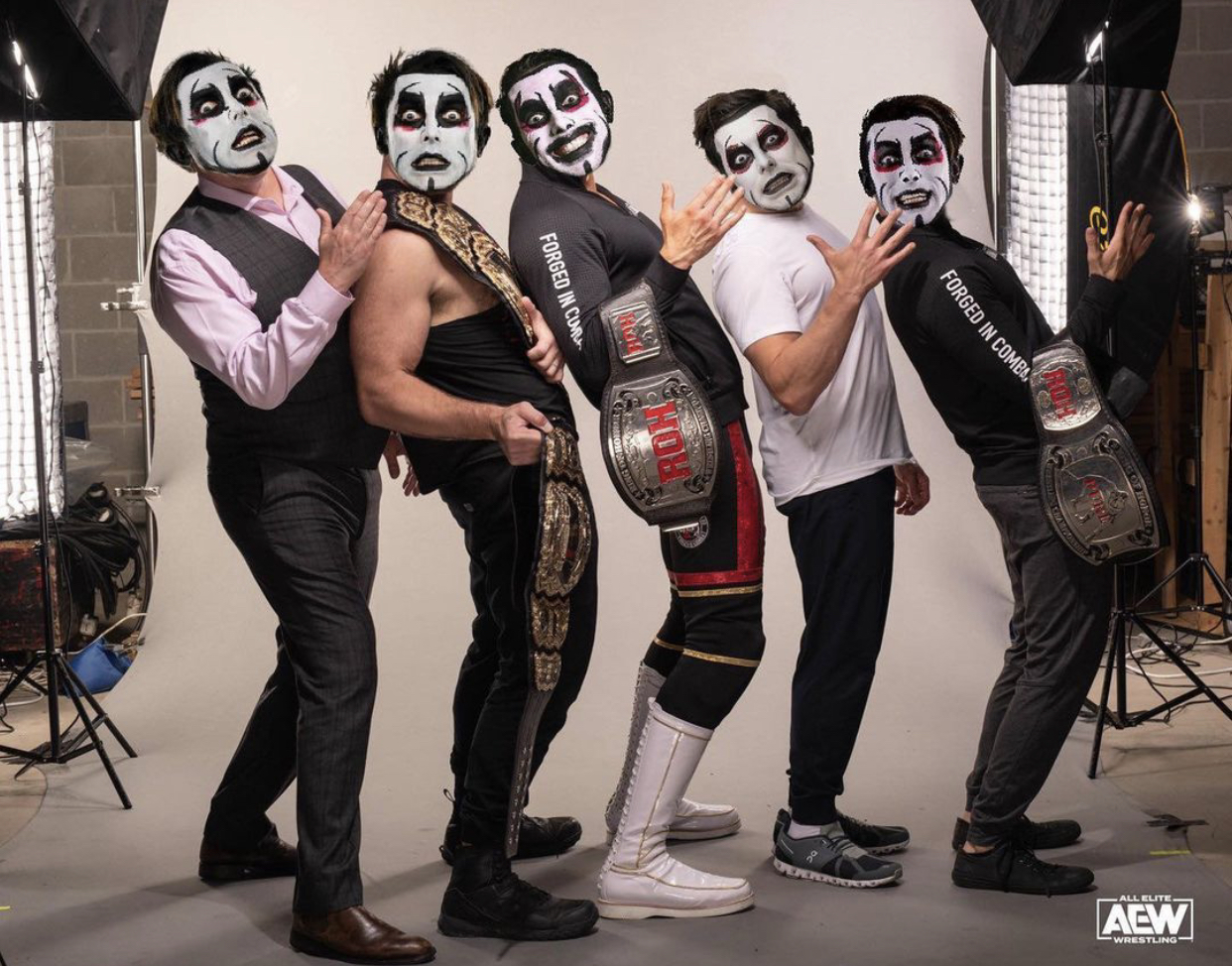 Posts

5,182

Joined

Last visited

Days Won

40
Everything posted by (BP)
I'm not. Davey is good now and it'd be good.

I only watch wrestling to find out if anything on the shows make strangers mad. It's very normal behavior.

I've watched a couple of Cabinet episodes. It's like Del Toro was shooting for Night Gallery or Hitchcock Presents and landed a lot closer to Masters of Horror (I'm pretty sure they even both adapted Dreams in the Witch House.) I'll keep at it, the Creepshow series took a few episode to hook me. I hope Mrs. Voorhees is played by someone like Angela Bettis or Katharine Isabelle in the Crystal lake show. Unless Fuller's looking closer to the A-list, then maybe Anna Pacquin? I'd like it to be an established genre actor.

1

@Control I like these matches quite a bit.

Three plus hours of vibes. Those movies are going to make so much money because no one wants to be on Earth anymore.

I like Rhett Titus's weird offense. It's unique and it's primarily impactful rather than flashy. Kiera and Sky is an example of good work between two wrestlers who still need some reps. They don't look lost, it's more like they haven't totally developed the muscle memory and dexterity to totally hide the strings. Dante/Cutler is permanent tape material for me. I don't usually recognize the enhancement talent, but I've seen Kai before so this Athena match is pretty neat. Good stuff. Athena's recent matches may have created more internet engagement around the Dark shows than any have before, so I'm under the impression we'll keep seeing her throwing bombs every week for a while. I've heard pity in the voices of the booth before, but I don't think it's ever been over footing and rope running. Poor kilt man. Eddie's looking lean and mean. We're in for a fun winter with wherever he's heading. Adora is capable of a lot more than making Jade look good, but I think she gets plenty of opportunities to show that so her getting steamrolled isn't the worst. QT is a phenomenal player/coach for the younger wrestlers because he utilizes the fundamentals in a way that shows how far you can get just by having strong instincts and a prowess for the basic mechanics. Danhausen is Danhausen. So we have two minimalist geniuses wrestling accordingly. I think Dean called Rampage this week Elevation on steroids, and this has the vibe of a Rampage that people would say was a bit weak on star power but rules. What a fun hour.

Madonna's Instagram filters and Marvel's tv visual effects are on about the same level.

It's charming that nearly 100 years after Chaney's Phantom of The Opera a movie can still get good word of mouth based on stories about it making people sick.

Lethal and Darby put on a killer match last time and they barely scratched the surface of what they're capable of, so there's that.

Say what you will about JR (I have), but "Is it take your husband to work day" was spectacular.

Menard isn't a technical marvel, but Mox is the best wrestler alive and everything's going to be bare minimum good. Moxley is so goddam crisp. Discovery wants to present AEW as a sport, better do a kidnapping segment Billy Gunn could've been part of in 1999. Madison Rayne took some nasty looking offense from Tay like a champ. Fun matwork too. The main was the best version of HBK vs Goldberg I could've feverishly imagined in the 90s. Taven's really good, but that and a dollar will get you a cup of coffee with this stacked roster. Puh-Puh-Puh-Puh Powerhouse

Now that's long-term storytelling.

Best Lewis story not involving a piano on fire has to be him getting arrested at Graceland for trying to visit Elvis while shitfaced and waving a gun.

Kenny Oh Megha hold this dog for a second.

Jericho's incredible run this year aside, he's a trash person and he doesn't deserve praise for high roading Punk in the middle of the chaos. And yeah, I'm sure he's leaked stuff when it benefited him for his whole career including this.

Moll is the antagonist in the pilot for the Highlander series. He's basically The Kurgan but with a Mankind mask he wears to protect his beautiful face during sword fights. He's rad.

William Henry Harrison was the CM Punk because of the physical fragility and suffering from the completely avoidable because he didn't know when to shut the fuck up.

8

At the time I thought it was a pretty pathetic effort to go a round with Punk on the mic, but I also thought the vagueness of it was needlessly going to generate speculation. Instead it primarily managed to provoke Punk's paranoia, which doesn't absolve Punk's behavior or mean Page is to blame for what happened. But maybe a promo that was not good on its face, didn't sell any PPVs, and inadvertently caused a humiliating debacle for AEW means Hanger should have a writer.

Ryan Satin is somewhere right now calling and harassing all of the Chicago area veterinary offices.

3

Christianity never begins because Jesus spends every waking moment turning water into wine by the barrel for dad.

12

FTR and Swerve/Lee are one of those pairings where if they were on house show loop there'd be a bunch of us going apeshit on here watching fancams from every town.

11

I appreciated that V/H/S/99 drops the wraparound story device since that's usually the weakest part of the movies. This was almost like Rick and Morty Intergalactic Cable. It felt like the entries were getting on base with singles and doubles (which is perfectly fine) until Hell and Back, which totally ruled. That segment sold me on seeking out the directors' feature length debut, Deadstream. Hopefully it's streaming somewhere. I liked the creativity of Ozzy's Dungeon, but there's an ugly cynicism peppering the violence and storytelling that I found distasteful. I get what they were going for, but they needed to develop the daughter character more for it to work for me. The rest were okay too. Edit: Deadstream was just added to Shudder. Hell yeah.

1

"This food is terrible, and in such small portions."

My only issue with turning the Blonds is that Pillman has just now finally become a good hot tag. Big ups to Daddy Magic for referencing Battledome and suggesting that Emi Sakura should be on commonwealth currency.