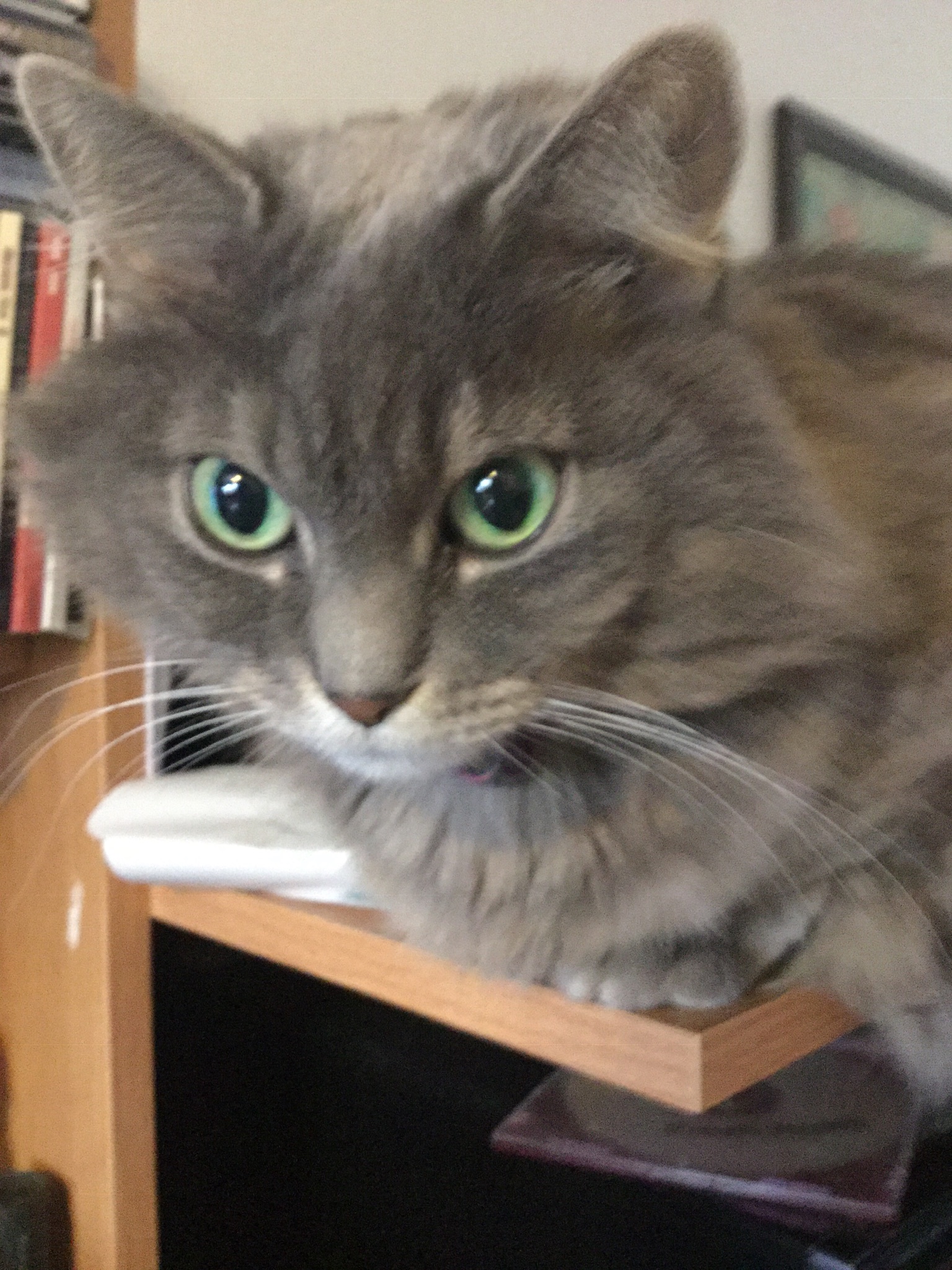 Posts

155

Joined

Last visited
Everything posted by Ryan Faulconer
I thought they were setting up Serpentico vs Orange Cassidy by having OC vs Luther as a sneak preview. It still might happen on Dark...but I thought they were trying to wedge the match onto the buy-in or undercard of the PPV coming up.

I was really looking forward to the show tonight. I had a feeling the presentation would be really bare bones or glass half full me might just call it "minimalist". Excalibur is really good at announcing by himself so I wasn't concerned about commentary at all. Any of the matches tonight could definitely make up a sizeable chunk of the Unofficial and Unstated AEW Top Ten Matches in the women's division. They might not dominate the top half of the list but those matches put a little more meat on the bone whenever one decided to recap the best matches of the division so far. I'm saying that I am trying to be more subtle by also damning the division with faint praise. These pandemic mandated wrestling shows really remind me of the years this place wouldn't blink an eye if the crowd was single digits and taking place in a tiny studio-sized environment. Good or even great wrestling can surpass superfluous trappings that too often control too much of the pro wrestling

The Acclaimed vs MJF/Jericho would be an angle that some promotions can't help but shoehorn in a turn by someone. In a crueler world The Acclaimed would be on their way to the ever-so-lazy no angle/no-turn baby face run. Thankfully there aren't enough fans in attendance to laugh at the crappy dis-track that Max Caster does every week.

Maybe I am getting less critical with age but those rap videos by The Acclaimed are getting better. It sounds like he isn't just c&piing new words onto the same backing track like they have been on Dark and Dynamite until recently. They are such a project. They need to work brawls that toughen them up. They have no personality as a team in between bells. They should become the team that The New Age Outlaws were when they would work opposite Foley. They aren't even at the point that All Night Express were initially in ROH. ANX were two random yet also green lower tier late 2000s Ring of Honor regulars - much like The Acclaimed. Kenny King and Rhett Titus were more of a new booker's whim than an actual tag team until Briscoes & American Wolves helped them immensely. Bowen's & Caster needed to feud for awhile with someone like SCU. They did work together but it was brief and at the start of The Acclaimed promotion to Wednesdays instead of obscurity on Tuesdays. As it is these last two weeks of videos on Dark already show more variety than Rappin' Cena showed us.

What did AEW say specifically about their sports-style presentation? They keep track of wins and losses. What else is there that they could do? I prefer the smaller American-style groups where a "pure sports build" can work. Even those instances are fewer than most of their fans would like. Maybe Mew Japan and it's style of presentation could reform what fans can accept on an American wrestling program. They will benefit from the stereotype (wrongly) that "I hear that in Japan they treat wrestling like a sport" that so many of us have heard over the years. It matters that significant others work together because WWE apparently intentionally splits them up. IMSMR wrestlers have stated that Vince does that just to show who really controls their livelihood. There are really only a few good reasons to purposefully, and with a fair bit of spite, splits couples up. Some of what I have read here (PWO threads as well) in AEW threads seem to be reaching for the easy comparison between wrestlers in similar positions in AEW and WWE. Cody is HHH. Brandi is Stephanie. Jericho is the new Hogan Luther is Ed Leslie...actually that one fits pretty nicely. It's just that his exposure is really tempered with moderation. rather than fitting the square Ed Leslie peg into any high profile but misshapen hole that Hogan could squish his buddy into, Jericho gave Luther one main event on a show that was supposed to revolve around satiating Jericho 'a ego. If I knew who Vicki Guerrero's friends were they would deserve some of the criticism that the VPs are usually blamed for. She brings less to the company than almost certainly anyone else on the roster. Keep in mind that includes people like Luther and Michael Nakazawa

There hasn't been much from AEW that has grated on me yet. I have only been watching religiously from sometime in August and there are a lot of new faces for my eyes to see. If the old boards could talk they would say I am not afraid to watch every promotion that passes my fancy so the fact that there are a batch of new-to-me wrestlers to get acquainted with. Thank God Shamgod for the syndicated-ish goodness that is AEW Dark every week. I think the only Dynamite episode I haven't watched until the very end was the week of the Dinner Debonair. I didn't know they would be doing a shmaltzy song-and-dance but I figured it would be a fine idea that gets stretched out into somrething with two segments. I might have bailed on one or more of those overly long Young Bucks showcase matches. Then agin I haven't enjoyed those big YB matches like they had with Candace & Joey in PWG. They need to cut five minutes on every YB match as a rule or pre-match stipulation or something. I am seriously scared for Darby's spine. I think he is definitely one wrestler who works best as an attraction of a sort. Maybe keep his big singles matches to a minimum. It might make his attempts at self-harm-by-wrestling help them stand out and actually mean something. Hangman's Dark Order courtship would be the most over part of every Dynamite if they had a meaningful crowd present. Putting goofy individual personalities aside I think Page/Silver/Reynolds should be the first Trios champs. I don't think there is any need to push Jungle Boy beyond the tag division at this point. IIRC JB was off tv for a spell because Luchasaurus was injured for a few weeks late last year. The Dax match was a real showcase for Perry. He is so young though that they can do a long tag team gimmick first. Luther has been in several goodish tag matches on Dark. Serpentico is going to be able to Cruz into a new gimmick once Chaos Project is done. I have never been much of a KENTA fan. Going all the way back to the advent of NOAH's jr tag titles in 2003ish I always thought that he had the exact same problems as the Bucks. He has had many great matches but I don't think I would watch a show to see him perform. And finally...I don't know why anyone interested in AEW wouldn't be into the weekly behemoth that is AEW Starks...I mean Dark. We get to see more from some featured performers which helps breed familiarity and eventually fandom. Apologies for rambling there for a bit. I am out of practice with my message board posting.

This is the first time that Cody's storyline hasn't clicked with me. The last dvds I bought from American promotions were pwg & Evolve from 2015-2016. That was the start of Cody's Indyriffic Slummin' It Phase. I thought he was quite good at that stage. I also recently picked up the five shows that AEW sells and was really impressed with all of Cody's matches in the first five ppvs. This week his feud(s) just felt so flat. I haven't posted much at all the last few years here but I have been reading the AeW threads as I play catch-up. Before this week I thought Cody played a great heart-of-AEW role that his programs all seemed to position him as such. Unfortunately for him the real heart of AEW is Darby...or maybe OC? The thing that doesn't work for for the role is when people like Triple H or Jeff Jarrett really shoehorn all of their favourite gimmicks into every single match. It also helps to watch BTE and those Dark episodes that he hosted. The storyline with MJF is really built there.

CMLL went on a nice run with three ppvs. Each show had one to three MOTYC. The first one had the excellent V3/Atlantis mask match. The 8/4/00 ppv had both a super fun cibernetico 8-on-8 elimination match and another Lucha MOTYC in Villano 3 teaming with Mr. Niebla against the up-and-coming duo in Ultimo Guerrero and Rey Bucanero. The 12/15/00 ppv had an excellent trios match pairing the awesome Los Laguneros.vs Los Villanos

Edit: I didn't see the above post. He was one of my favourite wrestlers to watch against just about anyone or anything AAA put against him. He was the best male wrestler to work with the female wrestlers whenever the intergender matches happened. He could team with his daughters against male or female wrestler teams and everything looked legitimately matched up. the WON site says that Gran Apache just passed away - he was 58 years young.

Football (American...but maybe the other kind too) has a history of bullying/hazing/abusing the rookies as well. I'm all for team building amd comraderie amongst the athletes on their chosen playing surface but the old way of doing things should have gone away long before we found out about Bobby Knight/Beyond the Mat/GAEA Girls.

AAA always did intergender matches really well. They have a man/woman tag title and those really entertaining luchaore/mini/luchadora/exotico 6 or 8 man tags too. Chikara did it pretty well although I stopped watching for unrelated reasons four years ago so I can't say how they pull it off in 2015 Those bumps in that Beyond clip were reckless. They were (presumably) paid for it so just ignore it and it will go away. WWE Network has a library of intergender violence covering several of their most popular years. The Dudleys built a career on it. Steve Austin did that to Debra in real ife. The network has over a million subscribers and Austin has a very popular podcast. Maybe the smaller promotions wouldn't copy the big leagues if fans didn't already support it with $9.99 every month. This press will probably hurt some smaller promotions financially. WWE probably has countless hours of that sort of violence and they will continue to make money off of their footage without any consequences. It isn't really fair to demonize the smaller promotions and damn them financially when WWE is still treated like God's gift to wrestling fans. None of the promotions do that on any relevant scale at this point. Those smaller promotions wouldn't do it at all if WWE hadn't proven that you can make money from it.

It isn't updated much anymore but Mike Lorefice's Quebrada website has a lot of older news and opinion. I still access it to this day when I need to cross-reference a match or show that I'm interested in. He/they did regular puro news updates during the late 1990s/early 00s in one section. In the tapes section there are reviews on hundreds of shows/tapes/commercial releases. Opinions will vary but I'd suggest reading through the DVDVRs themselves. They used to be the reason people came here. It looks like you need to google them (DVDVR #1 to #100something) now that I can't find them anywhere on the main page of this site.

Rey/Eddie/Benoit looked freaky at various points in their later and/or WWE careers. The only place the physiques on those guys would be natural would be Eternia. Eddie had veins bigger than X-Pac's arms. Benoit looked like he couldn't bend over to touch his toes and/or clasp his hands behind his back (a normal warmup stretch). Rey went through various stages and put on so much muscle weight that he didn't resemble the guy from AAA/WCW if you didn't recognize his mask. The "small" guys like Bret or HBK were all tall compared to the last few waves of wrestlers that came up through the independent promotions. It definitely isn't as blatant as it was in the 80s but tall and/or muscled will always be their first choice.

Edit: Ooops - this should probably go in the other folder...unless Myzteziz is coming to Lucha Underground. I haven't seen Myzteziz since he was in WWE so I have a question to ask. Did he take all the steroids in the lockerroom back with him to AAA or was he that jacked in WWE and he just didn't stand out in the land of the freaks? It has been ten years already since his great year in 2005 CMLL. Yikes.

I don't know if I just read something out of context in the Michinoku Pro summary but the big Delphin/Togo angle in 1997 only kept him off shows for a few months. He returns with the sunglasses/no mask and a "new" physique around the time of the August 1997 TV block of shows. He makes his heroic in-ring comeback in the 10/10/97 show with a great six man tag. Everything MPro from 1996-1997 is worth watching. 1995 is pretty good too. 1998...has the young Ultimo Dragon students who do a decent job replacing KDX. 1999 and 2000 then get really with 2002 later being almost at the level of 96-97. I haven't watched much after 2003 with the Toryumon X guys but it looks to be at the very least to be as fun as the 1993-1994 MPro. Those early years have some good and great shows but not as good as everyone would later become a few years later. It hasn't been shamed in a while so I'll just say it - DO NOT EXPECT ANYTHING FROM The Undertaker vs. Hakushi match that also took place on that show. Sasuke/TAKA is a letdown as well from that same night. They had better matches in 1997 WWF and probably lesser known MPro matches.

Has anyone here heard of a wrestler named Ron Soo (that's what he is listed at on match lists). I've found only match results with him listed as Ron Su. He worked in Michinoku Pro back in 1998. He wrestled almost EXACTLY like Hideki Nishida or Masato Yakushiji. He actually looked better than Yaskushiji doing all those Rey Jr. spots from the mid-90s that blew our minds while simultaneously winning our hearts.

Thanks. I was thinking of getting Let it Be...Naked as a stand alone purchase after hearing a lot of it on youtube. It really changes the emotional weight of the album without the over production and I really do like that famous producer fella's wall of sound on other albums. IIRC Across the Universe and the Long and Winding Road sound a lot cooler in the Naked version. The blue and red double albums are all that I've owned for the last twenty years. It has become easier to obtain with the internet and the destruction of the CD market I've wanted all the Beatles albums for a number of years but the price never seemed to drop in any stores here in Canada beyond $10/$11 each. They aren't my favourite group or maybe even top 7...maybe #10 or #11 on any given day. I prefer them to the Beach Boys (although I love Pet Sounds) or the Stones (although I love...umm really only Paint it Black and Wild Horses) or the Who (who...I do not like at all) or the Byrds or The Kinks as far as big 60s groups go. I'm more of a completist with Otis Redding/smaller soul labels/girl groups. I'd be fine with mono or stereo versions and would probably go for the cheaper set if I had the choice.

I'm interested in replacing my blue/red album compilations by The Beates. I'd love to get one of their box sets. Can anyone recommend the best one to get? I've tried to do some research on my own but going track-by-track through compilations is a little exhausting for me. I'm just worried about getting some set and then finding out that something important was missed. I'm leaning towards The Beatles Stereo box set. I don't need that 1990s song they released or anything retroconned into their library after they stopped making music.

There were dissenting opinions on Kanemoto and Tanaka when they were in their prime. There isn't a lot of difference between wrestling fans who were enjoying Koji & Minoru in the 90s and early 00s and fans of the Wolves from the past few years. They were all enjoyed for their similarities more than their differences. They wouldn't fall too far apart on a pro wrestling equivelant of the March of Progress evolution chart.

When were the last crazy Steiner brawls and promos? The Steiner Recliner always looked crappy because the victim usually looked like he was on his knees with Steiner giving him a rear chinlock. It was the laziest finisher in wrestling. He was either extremely lazy/injured/didn't know what the camel clutch really looked like. It looked like Steiner didn't want to crouch into position. I think it was Chase Tatum who took one of his arms out of the hold - tapped the mat - then put it back behind him. The move had no leverage except for Steiner pulling backwards on the jobber's head...again with no leverage. I'm not exactly enjoying Rusev's push but at least his camel clutch is done the proper "Iron Shiek" way - please no jokes. Rusev's opponents are usually flat against the canvas before he steps into the hold and locks the jobber's arms behind his knees. El Hijo Del Santo probably has the best version of the move. How about that Revolution Pro promotion all the kids were clamoring for a few years ago? The hip buzz had posters dreaming of Vader vs. Sid. They were the ironic cool 50 year olds back then. Jarrett's promotion will need to have a lot of ex-WWE guys. Those are guys with experience. An entirely new roster would only work with a completely "new" style of promotion. Konnan claims AAA's American adventures will be just that...maybe.

I think it is Bengali from AAA. With Pantere/Felino/Tigre Blanco/Blue Panther losing their masks in recent years I've been looking for a new cat-themed character to root for. Edit: Upon further review it is Bengala - who just debuted in AAA and is of unknown origin.

I was thinking that Woodhouse sounded a little different this season. I just chalked it up to weak writing of his character for those scenes. He sounded even more feeble and subservient than in the past. I really enjoy the show but sometimes Archer hitches himself to one punchline and just beats the dead horse with it for the rest of the episode. Off the top of my head I'm thinking about the episodes that took place in Switzerland/Canada/Uzbekistan. He can talk about the "danger zone" for the entirety of every episode. That never gets old. His rampage from a few seasons ago was also awesome to unattainable degree.

Chavo Jr. really mixes up the facts when he tells a story. I'm not outright saying that he isn't telling the truth about what he knows or doesn't know about Benoit but then...I probably should? We shouldn't expect him to have photographic memories of his entire career and those of his friends or family but he seems to dance around certain things and confuse the facts about others. He did it a lot on the MLW interview a few months ago too. He was talking about a couple of (at the very least...probably more) significant tragedies that happened to his close friends and family so I don't doubt that it would be hard to be more consistent when he recounts them. I mean...World War 3 had 90 guys??? Anybody could search a second and find out that isn't true. And there is probably other stuff that is more significant but who really would want to call him on his inconsistencies? Jericho seems more honest in the simple fact that his stories tend to stay the same no matter how often he tells them. He just likes to hammer lame jokes into the ground over and over again too much. I don't usually listen to his musical guests.

I hate zombies but I've been hooked on The Walking Dead after finally getting Netflix last year and catching up. I'd say there are maybe four episodes in the entire series that weren't enjoyable after repeated viewings. Tonight I seriously thought Michonne's dream sequence was a new GEICO commercial. It was so surreal - which I guess was their intention. The insurance salesman is really dead weight in a zombie apocalypse. Lawyers on the other hand...can master firearms after just a lesson or two and wield big swords. Even Maggie was pretty dangerous on a horse in her first episode. I was a little worried Michonne wasn't making it out of the episode alive after they mentioned who would be on The Talking Dead. Is this the first time a cast member has been on the show and HASN'T died the exact same night?

El Rey is probably very BIG in Iran.