1001 MATCHES: ROOKIE OF THE YEAR
(by PHIL RIPPA)
Settle in for another round of crazy Rippa methodology.
All the matches feature someone who was named Rookie of the Year by either the Wrestling Observer Newsletter or Pro Wrestling Illustrated. I used both just to provide some variety in the names. The WON provided more international names. PWI brought the wackadoo.
Five wrestlers – Brad Armstrong, Steve Austin, Johnny B. Badd, The Giant and Goldberg – were ROYs in both publications. They automatically got picked.
I tried to feature guys who were either under represented or hadn't shown up on the 1001 yet. (That is why I ignored people like Ric Flair, Rey Misterio Jr., and Kurt Angle.)
Sometimes I did purposely try to pick a match in the wrestler's rookie gimmick (For example: Picking a Giant match instead of Big show or a Johnny B. Badd match instead of Marc Mero.)
Matches between two ROYs took precedent.
I am seriously debating spinning this off into some sort of side story as it is always fascinating to see who finished ahead of who. Or some of the names that fell off the face of the Earth. Erick Stevens? Really???
---
781) BRAD & BOB ARMSTRONG vs. TOR KAMATA/RAY STEVENS – GEORGIA CHAMPIONSHIP WRESTLING (11/09/81)
Brad Armstrong – Winner WON 1981, Winner PWI 1982
I don't want to claim this is Brad's first match but it is at least the first one listed on Cagematch. Fitting he would work with his Dad in the early days. Also fitting that he would hold a tag title (the NWA National Tag Team Title) in less than a month.
~!~
782) SWEET BROWN SUGAR VS. BILL DUNDEE – MEMPHIS (06/21/82 – 2 out of 3 Falls, Scaffold Match)
Sweet Brown Sugar – Winner PWI 1979
This is why the internet is fun. Based on the year awarded – I am fairly positive PWI named Koko B Ware the Rookie of the Year. Koko was Sweet Brown Sugar in Memphis and debuted in 1978. Wiki (and by proxy lots of other places) thinks the Sweet Brown Sugar who won was Skip Young. Of course, Young was wrestling as early as March 1975. Thankfully – Koko was the much better wrestler and allowed me to throw this match up.
~!~
783) THE FANTASTICS (TOMMY ROGERS/BOBBY FULTON) & TERRY TAYLOR vs. THE SHEEPHERDERS (BUTCH MILLER/LUKE WILLIAMS) & JACK VICTORY – UWF (05/25/86 – Barbed Wire Cage Match)
https://youtu.be/GPmxiLynq4w
Terry Taylor – Winner PWI 1980
Jack Victory – Winner WON 1985
Never doubt the ability of the Fantastics and Sheepherders to bleed a lot in a less than 10 minute match. Super convenient that Taylor and Victory just happened to be feuding.
~!~
784) MADUSA vs. AJA KONG – ALL JAPAN WOMEN (05/13/90 – Shootboxing)
https://youtu.be/pn6bFaCj3kY
Madusa Miceli – Winner PWI 1988
God – All Japan Women were fucking crazy. Hey Madusa and Aja. Just go out and beat the shit out of each other for awhile and then we will call it a draw.
~!~
785) STEVE AUSTIN/JEANNIE CLARK (LADY BLOSSOM) vs. CHRIS & TONI ADAMS – USWA (07/20/90)
Steve Austin – Winner WON 1990, Winner PWI 1990
Austin's famous debut was as an ungrateful Adams' trainee. By proxy – this became he first famous feud. Every single match (whether it be Austin vs. Adams or these mixed matches) was the same thing. Adams wins, Austin beats the shit out of him afterwords. I picked this one since Percy Pringle and Chris Von Erich get involved and Von Erich somehow throws worse strikes than either woman.
~!~
786) BAM BAM BIGELOW/BIG VAN VADER vs. KEIJI MUTOH/HIROSHI HASE – NEW JAPAN (05/01/92 – IWGP Heavyweight Tag Team Championship)
Bam Bam Bigelow – Winner WON 1986, Runner-Up PWI 1986
Keiji Mutoh – Runner-Up WON 1985
(Bigelow lost to Lex Luger who was nowhere to found in the WON awards. More on him in a minute. Mutoh was 2nd to the aforementioned Jack Victory.)
Do I really have to sell how much I enjoyed this match? When Mutoh is the worst wrestler in a match, you are doing okay.
~!~
787) JOHN NORD VS. STEVE WILLIAMS – ALL JAPAN (03/05/94 (Taped), 03/13/94 (Aired))
John Nord (as Nord the Barbarian) – Winner PWI 1985, 4th WON 1985

Steve Williams – Winner WON 1982
Segunda Caida dropped a review of this match as I was working on this piece so read that.
I love this so much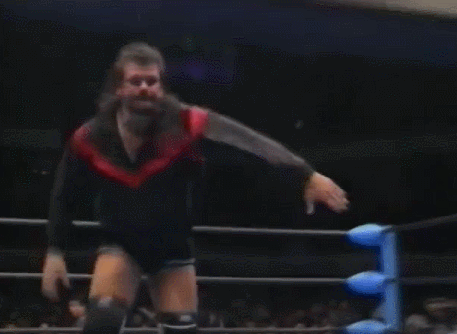 ~!~
788) JOHNNY B. BADD vs. BRIAN PILLMAN – WCW FALL BRAWL '95 (09/17/95)
Johnny B. Badd – WINNER WON 1991, PWI 1991
Brian Pillman – WINNER WON 1987
A forgotten good match due to being on an absolutely horrible PPV. Badd and Pillman go almost 30 minutes. They needed to wrap it up though so Pillman could interfere in the Ric Flair/Arn Anderson match.
~!~
789) THE GIANT vs. LEX LUGER – WCW GREAT AMERICAN BASH '96 (06/16/96 – WCW World Heavyweight Title)
The Giant – Winner WON 1996, PWI 1996
Lex Luger – Winner PWI 1986
(I could probably write an entire piece on all the people who received WON rookie of the year votes in 1985 and 1986. Luger didn't recieve a single one… but Savannah Jack sure did.)
The Giant and Luger have wrestled a TON. I picked this one partly because of the decisive finisher but mainly because I couldn't stop laughing a Luger fake caring about the corpse of Eric Bischoff (who had just famously been power bombed off the stage by the Outsiders.)
~!~
790) OWEN HART VS. BRITISH BULLDOG – WWF RAW (02/26/97 (Taped), 03/03/97 (Aired) – Finals of European Championship Tournament)
Owen Hart – Winner PWI 1987, Runner-Up WON 1986
(If Owen had been in 1987 in the WON voting, he would have had to beat out Gary Albright)
The match to crown the first European Champion. Vince sure knew to make sure Davey Boy won titles in Europe (this match took place in Berlin, Germany)
~!~
791) GOLDBERG vs. DIAMOND DALLAS PAGE – WCW HALLOWEEN HAVOC '98 (10/25/98 – WCW World Heavyweight Championship)
Goldberg – Winner WON 1998, PWI 1998
Diamond Dallas Page – Runner-Up PWI 1992, 3rd Place WON 1992
(DDP lost to Erik Watts in the PWI version. He lost to Rey Jr and Psicosis in the WON voting.)
The Main Event of the infamous WCW PPV where WCW gave no fucks and ran long and thus right when the match began, the PPV feed cut off. The match was shown the next night on Nitro.
~!~
792) THE UNHOLY ALLIANCE (MIKEY WHIPWRECK/YOSHIHIRO TAJIRI) vs. THE FBI (GUIDO MARITATO/TONY MAMALUKE) – ECW (08/26/00 (Taped), 09/08/00 (Aired) – ECW World Tag Team Title Match)
Mikey Whipwreck – Winner WON 1994, 4th PWI 1994
(Finished behind 911 (oh the irony), Bob Holly, and Abbudah Singh (Balls Mahoney because if you start in Stampede you have to have a Singh gimmick))
I am tempted to call this is last very good match of the original ECW era but I also have no memories of basically the last 18 months.
~!~
793) BOB SAPP VS. KENSUKE SASAKI – NEW JAPAN (03/28/04 – IWGP Heavyweight Title)
Bob Sapp – Winner 2002 WON
Oh yeah – New Japan sure would like you to forget the made Bob Sapp IWGP champ. They most certainly wanted you to forget it when two months later they had to strip him of the title because he lost a K-1 fight to Kazuyuki Fujita.
~!~
794) PETEY WILLIAMS vs. AJ STYLES – BIG MOUTH LOUD (12/29/05)
Petey Williams – Winner WON 2004, Runner-Up PWI 2004
(Williams lost to Monty Brown)
This one of those bizarre "Here is a TNA match on a random Japanese promotion show because reasons". Fun match but definitely picked because of the oddity of it.
~!~
795) ZACH GOWEN vs. POGO THE CLOWN – JUGGLO CHAMPIONSHIP WRESTLING (03/06/07)
Zach Gowen – Winner PWI 2003, Runner-Up WON 2003
(In the WON voting, Gowen lost to Chris Sabin. But even better, the person who finished 3rd? Shinsuke Nakamura)
Speaking of oddities – Zach Gowen wrestling Pogo the Crown in front of Jugglos is one for me. The WWF signing the wrong one legged wrestler is still one of my all time favorite stories.
~!~
796) ATSUSHI AOKI VS. MINORU SUZUKI – NOAH (02/28/10)
Atsushi Aoki – Winner WON 2006
The Final match in the (seemingly never ending) "Shining Magic 10 Match Series". I do like that the only person Aoki beat was Davey Richards.
~!~
797) FRIGHTMARE VS. AMAZING RED VS. 1-2-3 KID VS. OBARIYON – CHIKARA (04/06/11 – Elimination Match)
Frightmare – Winner WON 2009
Sean Waltman (as Lightning Kid) – Runner-up WON 1991, 4th PWI 1991
(Waltman was behind Johnny B. Badd in the WON voting. He also lost ground to The Patriot and Terri Power in PWI. Frightmare beat out Richie Steamboat and Magnus. 2009 might be one of the ugliest ROY years of them all. Mike Sydal was the PWI winner. Not Matt, MIKE! )
This is from the King of the Trios weekend where Waltman got all emotional because the shows helped rekindle his love of wrestling.
~!~
798) DAICHI HASHIMOTO vs. DAISUKE SEKIMOTO – BIG JAPAN "IKKITOUSEN STRONG CLIMB '16" (03/31/16 – Block A)
Daichi Hashimoto – Winner WON 2011
Shinya Hashimoto's kid and Daisuke Sekimoto beating the hell out of each other. I am so here for this.
~!~
799) VEDA SCOTT VS. LUFISTO – BEYOND (07/17/16)
Veda Scott – Winner PWI 2012
LuFisto was so born in the wrong era and on the wrong continent. This is a hoot as Veda hangs with her the entire time. Really hope LuFisto beats all her health problems.
~!~
800) KATSUYA KITAMURA vs. YUJI NAGATA – NEW JAPAN "NEW BEGINNING IN OSAKA '18 (02/10/18)
Katsuya Kitamura – Winner WON 2017
Kitamura is one of the most freakish looking human beings I have ever seen. He is also going to be a giant star. Especially if he works like a 1000 more matches against Yuji Nagata.
~!~