1001 Matches: DVDVR Staples
(by PHIL RIPPA)
Welcome back to the third installment of "DVDVR's 1001 Matches You Should Watch". I also helpfully hint that you contemplate the words that do not exist inside those quotation marks. (Or in not so subtle terms – read all the other pieces to get a sense of the type of matches that are being included in this.)
I am calling these "DVDVR Staples" as they are the matches that are noteworthy in terms of the lore of the Death Valley Driver Video Review or the message board. These are the matches that show (but don't necessarily fall in)…
A) We were WAY ahead of the curve in the love and adoration (or hate and scorn)
B) We were WAY ahead of the curve in the wild or the wacky
Or perhaps if you are a newer reader – some of these are helpful primers to those obscure references that people still make.
101) SURVIVAL TOBITA VS. MOKUJIN KEN – SPWC (8/23/99)
Here ya go folks. Survival Tobita vs. Ken the Box. The very essence of DVDVR in one match. Pour one out for Victor and for Scott Mailman.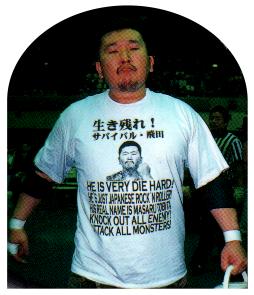 Dean once wrote about Tobita: "Survival Tobita was a cipher for all of us in the 90s. He was an inspiration to really not give a fuck and just put it out there and just fuck the world as lovingly as possible."
102) TOMOAKI HONMA/RYUJI YAMAKAWA VS. SHADOW WX/WINGER – BIG JAPAN 11/8/1999
No one – and I mean NO ONE – was on the Big Japan bandwagon earlier than us. A bandwagon I should add that still contains Dean. This was from that brief period of time when garbage matches were amazing again. Then Big Japan and the US indies got into an arms race over who could kill it quicker. Deciding between this and Honma vs. Yamakawa (which is an example of the "feud" rule at work) came down to this deciding factor.
"Jesus, Winger does a senton off the balcony while on fire." – Dean
It appears that this will be another match I have to dig through my files and upload.
103) DAISUKE IKEDA VS. YUKI ISHIKAWA – BATTLARTS 8/29/99
We definitely were the first people (and still kinda are the only ones) who were all about Battlarts. This was #6 in the comically bad Japanese Indy Best of the 90s poll. From Dean in DVDVR #110 (who called it the best match in Battlarts history – a claim that I am 99% sure is still true.)
Ikeda/Ishikawa is a great match because it is the pinnacle of what Pro Style Wrestling should be – something you and I can't do, something that takes will, and toughness, and skill and passion – it follows logic and the rules that it sets up for itself. That is this match and after all the lofty crap I've said about it, the REAL best part is that there are whole sequences where you go – "I cannot fucking believe he just took that kick right to the face."
Now – I really don't understand why every fucking match between the two is online but not this one. I blame each and every one of you. Anyway – someone needs to hook a brother up with this and the aforementioned Big Japan match (mainly since I have no idea where my copies are.)
104) THE GREAT MUTA VS. HIROSHI HASE – New Japan (9/14/90)
https://youtu.be/u2yxfSRz-cw
I don't remember who actually coined the phrase "Muta Scale" but if you were around during the early internet wrestling days, you heard it mentioned. Now you can understand why. Plus – I realized that in the 100 matches so far we hadn't picked a single Muta/Mutoh match which seemed a little… odd. (And I am speaking that as someone who isn't as much of a Muta mark as others.)
Reviewed by Ray in DVDVR #113
105) THE GREAT SASUKE vs. LENNY LANE – PWA (PRO WRESTLING AMERICA) – 1/23/97 (Minnesapolis, MN)
"This is in some public access sort of taping at a National Guard Armory. No really, I'm the Great Sasuke, former J Crown Champ, worked in the Tokyo Dome against Jushin Lyger…. then again, considering most of the arenas MPro works in, this about what Sasuke is used to."
Reviewed by Ray in DVDVR #68
Nothing said more about the rise of US and Japanese indies and the power of tape trading (or at least the fact that I would like to believe in that notion) – than Great Sasuke wrestling Lenny Fucking Lane in a National Guard Armory in Minnesota. This is still my go to reference for "How the heck did this match happen?"
(And for the record – I am not sure which date is accurate. Ray's or the video's. I am kinda amused at the idea of Sasuke making the circuit with Lane.)
106) ULTRAMAN 2000/HAYABUSA/ONITA JR. vs. CHAVO GUERRERO/PSICOPATA/ANTICRISTO – WWO 1996
https://youtu.be/z7W87qMRMrI
This is cheating just a little bit as you are really watching for the greatest promo in the history of wrestling instead of the match. (Though it is FMW doing lucha so yeah…) I will let Dean explain from DVDVR #1 (which is another reason to watch this since it was for all intents and purposes the first match reviewed in DVDVR history).
The WEIRDEST THING I'VE EVER SEEN IN WRESTLING also occurred during the first tape: There was this wrestler called Antichristo with a goats head on a pole and truly freaky mask. They are interveiwing him in English, I guess to attract the gringo crowd, and he says in broken English,"ANTI-CHRIST IS THE BEST! I AM ANTI-CHRIST AND I AM NUMBER ONE!" Then the announcer said something in Spanish, and Antichristo grabs the mike and yells, "I AM NUMBER ONE! ANTI-CHRIST IS NUMBER ONE! (very loudly) NOT GOD! BUT MEEEEEEE!" I swear I thought I was going to laugh until I died. I showed it to Cliff when he came over to watch Hogwild and he was actually crying from laughing so hard- definite answering machine fodder. THEN, he, of course, wrestled a trios match where his partner was Chavo Guerrero (does Eddie know who his brother is consorting with?) and they wrestle, of course, HAYABUSA! Hayabusa is with Onita Jr who I'd never seen but was pretty okay and UltraMan (thus the FMW connection). Then the rest of the four months I have, the dark one disappears, I guess having done his job of using wrestling as a vehicle to establish Satan's earthly kingdom. Oh yeah, the beast is a crappy wrestler.
I could have sworn that for the longest time, the internet claimed that Anticristo was a Gilbert (Doug or Tommy). I don't know if that was ever confirmed but I do mention it just for full disclosure. ALSO – this Anticristo is not the Anticristo was also Pierroth II.
107) EDDIE GILBERT vs. CACTUS JACK – 2 OUT OF 3 MATCHES (TWA – August 3, 1991)
1st Match – Falls Count Anywhere
2nd Match – Stretcher Match
3rd Match – Cage Match
Those of us who read the Apter magazines remember what a big fucking deal was made out of the Cactus Jack/Eddie Gilbert feud that occurred mainly for Joel Goodhart's promotion. Consider them another ECW precurser. So when most of us got into tape trading – that feud was one of the early "Holy Shit! That comp has Jack/Gilbert on it!". While the barb wire match might be easier to digest – the 2 out of 3 "Fall" Matches provides a better showcase for why Apter and us teenagers lost our minds. Plus this was long before the masturbatory HHH/Shawn Michaels version of this match. (Added bonus – you get to see the horror that was VQ back in the early 90s.). It was these matches found on comps that provided a common language as we all stumbled our way through RSPW.
And before anyone asks – this counts as one match.
108) RIOT VS. LOTUS – WOW (11/4/00 Aired)
There might have been two people in this world who loved WOW. Dean was one of them. And to say he was smitten by Riot would be an understatement. You really could watch all the Riot you could find but I picked this one because Dean's workrate report made me laugh the most.
RIOT vs LOTUS: Lotus is a lady of Asian descent who is POWERED BY FABULOUS ATOMIC IMPLANTS! This match is the greatest match in the history of teenage boys staying up late on Saturday nights. It has it all. Lotus has the tiniest pants in all of California and she has the DUEL wedgie/cameltoe combo. Riot fights back with her own wedgetastic black little pants and fabulous abs of silky slutty sexiness. RIOT starts SPANKING Lotus while having her up for a bodyslam and WOW ratings immediately plunge as the teenage boys across this great land quickly change their underwear and call it a night. RIOT stalls during the Powerbomb to polish off the older viewers who have tried to keep it together by using age old techniques of thinking of the usual assortment of unsexy things: Jimmy The Greek, baseball, Janet Reno, Cher videos… it's no use. The pants are all tiny, everything is riding up, it's all writhy and wriggly and it's RIOT being the gnarliest vixen on TV. Everyone loses/wins. JADE rushes in because she is one half of the first TRUE jabrone WOW tag team and- being Lotus partner- has matching implants and a red version of the tiny pants. Two powerbombs later THE WORLD IS SPENT. Restraining Order: a whopping 40,000 feet.
109) ALBERTO DEL RIO vs. BIG SHOW – WWE RAW (6/27/11 – Steel Cage Match)
Yup – somewhat cheating again. I could give two shits about this sanitized WWE cage match. What y'all are watching for is Mark Henry coming out and giving a lesson in trash talk which includes him uttering the immortal words "If I charge for air, you keep your bill paid!"
110) KURT ANGLE VS. SHANE MCMAHON – WWE KING OF THE RING 2001 (6/24/01 – Street Fight)
http://www.dailymotion.com/video/x3i6xey_kurt-angle-vs-shane-mcmahon-king-of-the-ring-2001_sport
There have been a few matches that have been VERY divisive on the board. In trying to figure out which one was the most divisive. I kept thinking Angle/Shane. (Perhaps it was one of those Taker/Michaels Mania matches but fuck those matches.) When I asked on Twitter – the only responses I got agreed with me so now you are stuck. Schneider and Tom did a LONG breakdown of the match in DVDVR #129
"Your total disregard of the human consequences is almost sickening. We were just talking about the DVDVR boys~! and their inability to appreciate wrestling as an art and not some sicko circus act." – Randall – "wrestlingrandall"