1001 MATCHES – Plain Janes
I call these "Plain Janes" as my short hand for two guys just having a match. No titles. No gimmicks. No tournaments. Etc… I even decided (because I like making things hard on myself) to not include tag matches or anything that wasn't a straight singles match. Pretty much the only reason these guys are wrestling is because they showed up and saw themselves on the card or they hate each other. Or both.
I am sure someone will eventually tell me something like "Well that match was actually a first round match in the HOT AND HEAVY HOOTANANNY~!" and we will all just accept that I am a fool.
---
611) TONY SALAZAR vs. HERODES (03/02/84)
I am immediately skirting my own rules since this is technically two out of three falls but it is lucha so that is a normal match. Just two guys who hated each other beating the blood out of each other. This match finished in the Top 10 of the 80s Lucha poll.
~!~
612) FIT FINLAY vs. MENG – WCW SATURDAY NIGHT (01/10/98)
One of my all time WCW C-Show matches. Finlay and Meng do exactly what you expect them to do – hit each other really hard while Dusty Rhodes yells. These are the times I don't need anything more from my wrestling. Finlay is also someone one could accept as a guy who could credibly be damaging Meng. I love Meng wincing after the match.
~!~
613) KIYOSHI TAMURA vs. YOSHIHISA YAMAMOTO – RINGS (06/24/99)
Maybe the best Rings match Non Volk Han division. Oh and Tamura and Yamamoto legit hated each other so yeah… that helps one accept the beatings.
~!~
614) PAUL LONDON vs. AKIO – WWE VELOCITY (12/02/04)
Remember that one time (of many) where Paul London almost died? That was this match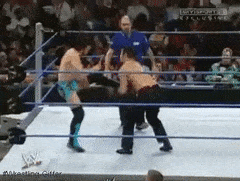 London and the man more commonly known as Jimmy Wang Yang had the greatest rivalry that not a single person watched. This was the first match in the series with two guys legit being thrown out there and told "Ya got 8 minutes" and they did their thing. London nearly snaps his neck, his chest is chop meat and he destroys Akio for the finish. Watch all the matches.
~!~
615) HIROYO MATSUMOTO vs. KANA – PASSION RED (01/10/09)
This is one way to jump start a new fed (okay – technically they only promoted three events and where probably really under the NEO banner the entire time anyway but still.)
~!~
616) RICKY MARVIN vs. BELIAL – CHILANGA MASK (11/17/13)
Stealing from cubsfan here
"Classic veteran versus an up and comer match. NOAH's loss has been indy Mexico's gain, with an always slightly annoyed Marvin having quality matches every time he turns up. Marvin is great as always here, but this is just as much a breakthru performance for the obscure Belial. He made a name for himself here by taking the international superstar father than anyone expected him to go, having his best match every at the best time."
~!~
617) TOMMY END vs. PETE DUNNE – SWE "SEASONS BEATINGS 2015" (12/27/15)
Fun little match between two guys who each had some of the best WWE performer years in 2017. Only reason you will dislike me having you watch this is the announcers.
~!~
618) KEITH LEE vs. DONOVAN DIJAK – BEYOND WRESTLING (05/29/16)
Keith Lee is my breakout star of 2017. Donovan Dijak is probably my #2. Both guys have been insanely great the last year or two and their match at EVOVLE 81 was the match of Mania weekend. This match was the first time the two ever met and is just as good as all their other meetings. Love Hoss XL matches so much.
~!~
619) FINN BALOR vs. AJ STYLES – WWE TLC '17 (10/22/17)
Ironically, of all the matches I pick under the "Plain Jane" banner, this one might fit the description best. Thanks to the Great VIRAL INFECTION~! outbreak the WWE had to re-book several matches and decided to just have Finn Balor vs. AJ Styles for reasons. (Just accept that this wasn't the one night a year when RAW vs. SDL). A dream match for many so… yeah…
~!~
620) MR. NIEBLA vs. CAIFAN – LUCHA MEMES (11/20/17)
Schneider and Eric started raving about this match over at Segunda Caida and I was all "You aren't gonna trick me again. No fucking way Mr. Niebla had a great match in 2017… HOLY FUCK! MR. NIEBLA HAD A GREAT MATCH IN 2017!" Assume this will be his last great match.
~!~