1001 MATCHES – Celebrities
(by PHIL RIPPA)
So much laziness. Shout out to board poster Web Conn for compiling a bunch of matches and videos for me to choose from. The theme should be fairly obvious but for those that are dense – every match features a "celebrity" doing wrestling (obviously the definition of celebrity gets stretched in some cases.) I tried to avoid anyone who ended up going pro wrestling full time.
---
601) ANTONIO INOKI vs. MUHAMMAD ALI – NEW JAPAN (06/25/76 – Boxer vs. Wrestler)
https://youtu.be/JPBgVbkh_30
~!~
602) ANDY KAUFMAN vs. JERRY LAWLER – CONTINENTAL WRESTLING ASSOCIATION (04/05/82)
~!~
603) MR. T/HULK HOGAN vs. RODDY PIPER/PAUL ORNDORFF – WWF WRESTLEMANIA (03/31/85)
https://www.dailymotion.com/video/x2zyfhk
These three matches are the most famous wrestling matches involving celebrities there are. They have all been written about extensively and most of you have already watched them but for a youngster getting into wrestling (God help you) here ya go.
~!~
604) LEON SPINKS vs. ATSUSHI ONITA – FMW (05/24/92 – WWA World Martial Arts Heavyweight Championship)
https://youtu.be/0EM1srJ7fJY
God Bless you Leon Spinks. Boxing was so not good for your brain and you sure are fuck didn't know how to handle your money. But you going into wrestling is one of my fondest childhood wrestling memories for how fucking bizarre it seemed to be. Also, good on you for still living.
~!~
605)  LAWRENCE TAYLOR vs. BAM BAM BIGELOW – WWF WRESTLEMANIA XI (04/02/95)
https://www.dailymotion.com/video/x439lct
Lawrence Taylor is my all time favorite football player so him doing a wrestling match was probably a bigger deal for me than you. Fun times and if you asked me to pick which of the two was still living – it would not have been LT.
~!~
606) KEVIN GREENE vs. STEVE MCMICHAEL – WCW GREAT AMERICAN BASH '97 (06/15/97)
http://www.dailymotion.com/video/x9v1y2
"With the exception of people like Owen Hart, Hiroshi Hase and Jun Akiyama, all of whom had put in far more time training for pro wrestling, I don't know if I've ever seen such a natural from his third match as Greene. Due to his age and the fact he's probably never going to be a full-time wrestler, he'll surely never be the wrestler the aforementioned three turned out to be, but he is amazing given he's only had a few weeks total of training time, this was only his third pro match, and McMichael is hardly the great worker that Ric Flair or Arn Anderson were to carry him."
Dave Meltzer – Wrestling Observer Newsletter (June 23, 1997)
~!~
607) KEVIN FEDERLINE vs. JOHN CENA – WWE RAW (01/01/07)
Happy New Year! The former Mr. Brittany Spears turns in one of the more shocking good performances by a celebrity as he totally bought into what his role was supposed to be. John Cena ain't never getting his win back.
 ~!~
608) DANNY BONADUCE vs. ERIC YOUNG – TNA LOCKDOWN (04/19/09 – Cage Match)
Yup – TNA ran it's big "celebrity" match with a washed up TV star who happened to have a radio show. Oh and they ran it on the preshow of their card where everything was in a cage match. Yup. I wanted to make a joke about Anthem re-running this angle now with a cheaper Canadian version of Bonaduce but I have zero idea who that would be.
~!~
609) STEPHEN AMELL/NEVILLE vs. STARDUST/KING BARRETT – WWE SUMMERSLAM '15 (08/23/15)
As we have all learned by now – Stephen Amell is a big wrestling fan and dreamy so him not looking lost inside the wrestling ring isn't that surprising. More fun to watch due to the WWE actually presenting the match in a different fashion (which you can even see a little taste of in the screen cap).
~!~
610) DEANGELO WILLIAMS/MOOSE vs. CHRIS ADONIS/ELI DRAKE – TNA SLAMMIVERSARY '17 (07/02/17)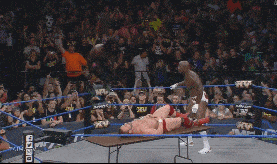 "To say Williams looked impressive would be the understatement of the year. He had only three days of training with his opponents and Scott D'Amore. Even though his spots were obviously choreographed and the table didn't break right on the finish, he was significantly better than even guys like Kurt Angle were in their first match. I've never seen a guy in his first match close to as good. At 34, he would be old to start, but there's not a doubt in my mind that if he wanted to be, he'd quickly become one of the best wrestlers in the business. Lots of guys have great athletic ability, but he had a sense of timing that it usually takes guys more than a year of training to get and sold like a guy with several years experience. There are guys in NXT who have been there daily for three years who aren't as advanced as he is."
Dave Meltzer – Wrestling Observer Newsletter (July 10, 2017)
(Since Anthem purchased TNA – they have been quite vigilante of scrubbing the internet of their footage. But honestly – I think Williams nearly killing himself on the finish is all you really need to see.)