1001 MATCHES: Avert Your Eyes!
(by PHIL RIPPA)
I have always promised that much like the original matches from DVDVR #100 not everything will be gems. What we have here are some of the more notable bad matches. Generally these all occur on big shows or are "known" for one reason or another. I mean if I was just picked bad matches there would be a lot of Gronda on this 1000. The silver lining (if you are a glass half full type of person) is that many of these are short.
---
307) HIROSHI WAJIMA vs. TOM MAGEE – ALL JAPAN (04/21/88)
Yes THAT Tom Magee. Reviewed in DVDVR #174
~!~
308) STING vs. TONY PALMORE – NEW JAPAN BATTLE 7 (01/04/95 – BVD Tournament Semis)
Antonio Inoki at his fucking craziest. Instead of just booking himself in match with Sting, let's set up a "Shoot" tournament with two over the hill MMA fighters who had never done wrestling before. Inoki "fought" Gerard Gordeau in the other semi in a match that is just as woeful as this one. Palmore throws a lot of kicks that in a real fight would have knocked Real Estate Steve out into next week. Instead, Sting just kinda takes everything and then wins with the Scorpion Deathlock. Well I guess it was a submission at least.
Everyone needs to watch Sting vs. Tony Palmore at the Tokyo Dome since we're on this kick. https://t.co/298Mea1kmG

— Dave Meltzer (@davemeltzerWON) February 20, 2016
~!~
309) THE MEGA POWERS (HULK HOGAN/RANDY SAVAGE) vs. THE ALLIANCE TO END HULKAMANIA (RIC FLAIR/ARN ANDERSON/LEX LUGER/BARBARIAN/MENG/KEVIN SULLIVAN/ZEUS/THE ULTIMATE SOLUTION) – WCW UNCENSORED '96 (03/24/96, Doomsday Cage Match)
Hoo Boy… So much to cover.
Video is the WWE highlight video and they are doing you a favor since the actual match is like 25 minutes long
Zeus is actually "Z-Gangsta" but fuck if I am putting that since Fuck WCW.
Yes – WCW originally called him "The Final Solution". No – they didn't realize anything was wrong till people complained
No one and I mean NO ONE had any fucking clue to the rules. Not the fans. Not the announcers. Not the wrestlers themselves. I mean that is evident by Savage running back into the ring to pin Flair because reasons.
This match managed to be worse than the Giant/cancer ridden Loch Ness *cough* Giant Haystacks *cough* match
Luger "accidentally" turned on The Alliance or specifically Flair.
I am still not convinced that all the powder flying around isn't coke.
~!~
310) HOLLYWOOD HOGAN vs. ULTIMATE WARRIOR – WCW HALLOWEEN HAVOC '98 (10/25/98)
Just read the Wikipedia summary
Reaction to Hogan vs. Warrior II[edit]
The 1998 card is infamous for featuring a widely pilloried rematch of the main event of WrestleMania VI, a 1990 pay-per-view event produced by WCW's rival the World Wrestling Federation (WWF, now WWE) in which The Ultimate Warrior had defeated Hulk Hogan for the WWF World Heavyweight Championship. Their 1998 return bout is regarded by critics as one of the worst matches of all time.[15] Dave Meltzer of the Wrestling Observer Newsletter awarded it a minimum score of minus five stars out of five (the lowest ever for a WCW contest),[16] and readers of the publication voted it the worst match of the year. Readers of professional wrestling magazine Power Slam cast the same vote;[17] editor Fin Martin called it "one of the worst matches ever held."[18] Then-WCW announcer Gene Okerlund described the contest as a "disaster".[15] Comparing the WrestleMania VI and Halloween Havoc 1998 bouts, Warrior stated: "It's weird that my best match ever was with Hogan, and at the same time my worst match ever was with Hogan".[19] Hogan felt the contest was ruined by his botching a spot he himself devised, in which he was supposed throw fire at Warrior: Hogan instead lit the flash paper in his own face and legit burnt his mustache and eyebrows.[15] This led to an improvised ending in which Hogan's nephew, Horace, hit Warrior with what Sports Illustrated writer Luke Winkie called "the most unsatisfying chair shot in history".[20] Winkie also observed a lack of co-operation between the two combatants, who did not get along personally, and slammed the contest as a "passive-aggressive wankfest".[20] Hogan unequivocally said of the failed bout, "It was my fault."[21]
Former WCW president Eric Bischoff conceded critical opinion that Hogan vs. Warrior II was one of the worst matches in history, and admitted that it "pretty much stunk up the joint." He however dismissed the notion that he had hired Warrior solely to lose to Hogan in return for Hogan's WrestleMania VI loss, claiming that this is "not true" and that those who hold this belief are "drinking their own Kool-Aid".[15] WrestleCrap journalist Art O'Donnell[22] and Fin Martin of Power Slam disputed Bischoff's claims, the latter writing that WCW "hired Warrior at great expense in May 1998 specifically to massage the Hogan ego."[18] Warrior himself commented: "They used [Ted] Turner's check book to buy me to come back to lose a match to Hulk [Hogan]…it was repulsive, to me, when I finally realised it. And if I would have known I never would have went back for all the money that they gave me."[21]
Oh and just as an additional reminder – because of all this nonsense, this was the show where the Goldberg/DDP Main Event wasn't aired because the show ran long. Good Times.
~!~
311) BIG BOSSMAN vs. AL SNOW – WWF UNFORGIVEN '99 (09/26/99 – WWF Hardcore Championship, Kennel From Hell Match)
Oof. Even the setup was bad with Bossman feeding Snow his dog. Cage inside a cage with Pit Bulls in between. Of course – the dogs wouldn't have been able to pass a WWE Wellness Test.
Here is Vince Russo claiming why it went all so wrong.
~!~
312) JEFF JARRETT vs. BOOKER T – WCW NITRO (12/02/00, WCW Title)
http://www.dailymotion.com/video/x2taco_booker-t-vs-jeff-jarrett-wcw-title_sport
Peak end of WCW days. This is called a "San Francisco 49ers". It really should be called "Shit in a Box" match. Basically there are boxes hanging above the ring. One of them holds the vacant WCW Title. If you have seen the Booker T holds a picture of Scott Hall gif – it is from this match.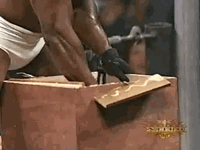 Anyway – the black midget from the Howard Stern show interfers in the match and the title drops out of the box before it should. OH! And piece of shit Mark Madden advocates that someone assault Robin Quivers. Yup.
~!~
313) GIANT SINGH vs. GIANT SILVA – NEW JAPAN (08/29/02)
https://youtu.be/YiHsxjxtC6g
Giant Singh = Great Khali
This is before Khali went to the WWE and after Silva's abortion of an Oddities run. I have a soft spot for Khali but not THAT much of a soft spot. His knees aren't shot to shit yet so he is at least mobile. This is not a super hoss match.
~!~
314) KENSUKE SASAKI vs. KAZUYUKI FUJITA – NEW JAPAN (10/09/04, IWGP Heavyweight Championship)
Oh the lamentable Fujita IWGP Title reign. Yeah – it's never a good sign when a title match (let alone with a title switch) lasts less than two and a half minutes.
~!~
315) AJ STYLES vs. FRANK TRIGG – TNA NO SURRENDER '08 (09/14/08, "MMA Match")
Yay! More worked shoot fights! These are the best! In this case, an MMA Match meant you had to win by submission with rounds. Jesus – why am I trying to explain things? This was the match where TNA accidentally aired porn.
"Half way through Round One, Styles and Trigg tumbled to the ringside area and continued to fight until security broke them up. The round ended with Styles having Trigg in an armbar submission hold, causing Styles to release the hold. The system feed broadcasting the show was interrupted at this time, upon its return it displayed a pornographic film, until the broadcast was fixed, returning to No Surrender. The feed returned to Styles and Trigg fighting in Round Two, with Styles grabbing a kendo stick from under the ring and assaulting Trigg with it. It was later shown that the bout was ruled a no contest by the referee due to Styles hitting Trigg in the groin by accident."
~!~
316) JEFF HARDY vs. STING – TNA VICTORY ROAD '11 (03/13/11 TNA World Heavyweight Championship)
https://youtu.be/9H4yZ0gPOH0
For those wonder where all the TNA was – we are on a roll now. (Though to be fair – I already selected a bunch of their greatest hits). The infamous match where TNA decided to have a no condition to wrestle Jeff Hardy wrestle and then realized what a stupid idea that was so the had Sting shoot on him in 90 seconds. I mean the company legitimately apologized for the shittiness after the fact and gave the dozens of people who bought the show free access to their OnDemand library. So… maybe they do still hate their fans.
~!~
317) SHELLY MARTINEZ vs. REBEL – TNA ONE NIGHT ONLY "KNOCKOUTS KNOCKDOWN 4" (03/17/16 (Taped), 04/22/16 (Aired))
We have talked about the Jenna vs. Sharmell match in the past. Here Rebel and Shelly Martinez and her ill-fitting outfit try to have a worse match on a show that maybe nine people watched. Now, excuse me while I bleach my computer thanks the Youtube account that hosts this video.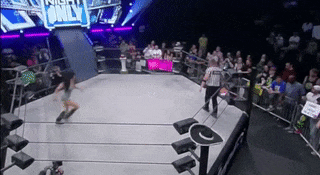 ~!~