(by PHIL RIPPA)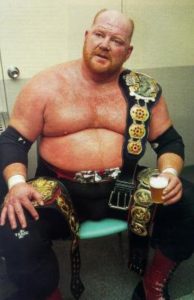 I hadn't been planning on spotlighting Big Van Vader as he has been represented decently so far over the first 800 matches. But then one of my all time favorites up and died. And now I am sad and just watching him over and over. So, in what should be your quest to watch all the Vader, here are some more recommendations.
As a note – these are the Vader matches already selected in the 1001
vs. Cactus Jack (WCW Sat Night for the WCW World Heavyweight Title)
(as Super Vader) vs. Nobuhiko Takada (UWFI 12/05/93)
Chamber of Horrors
vs. Sting (The Strap Match)
vs. Ron Simmons (Simmons Title Win)
vs. Dustin Rhodes (Clash  XXIX)
(as Bull Power) vs. Tatsumi Fujinami (Catch – 12/21/91)
w/ Bam Bam Bigelow vs. Keiji Mutoh/Hiroshi Hase (05/01/92 – IWGP Tag Title)
---
801) BIG VAN VADER vs. SHINYA HASHIMOTO – NEW JAPAN (04/24/89 – IWGP Heavyweight Title Tournament Finals; Special Ref: Lou Thesz)
Sigh, both are now dead and I am still sad. I will always have the memories of them wailing on each other.
~!~
802) BIG VAN VADER/EL FABULOSO BLONDY/CIEN CARAS vs. LIZMARK/EL FARAON/EL SATANICO – EMLL (11/17/89)
Vader as a "luchadore" will always make me chuckle. Match isn't really good but it is Vader in Arena Mexico.
Reviewed by DEAN in DVDVR #104
~!~
803) BIG VAN VADER vs. STAN HANSEN – NEW JAPAN (02/10/90 – IWGP Heavyweight Title)
The infamous eye popping match.
~!~
804) BULL POWER (Vader) vs. OTTO WANZ – CWA (06/30/90 – CWA World Heavyweight Title)
Otto Wanz's first retirement match. Booking yourself to get mauled by Vader is an interesting way to go out.
~!~
805) BIG VAN VADER vs. KEIJI MUTOH – NEW JAPAN G1 CLIMAX '91 (08/10/91)
Brian Pillman (via Dave Meltzer) said this was the greatest match he ever saw.
"I can vividly recall getting a phone call from Japan on the second night from Brian Pillman, who told me that the match that had just ended a few hours earlier where Keiji Muto pinned Vader was the greatest match he had ever seen. Worse, he noted, it was not taped for television. A few months later, a handheld tape of the match did appear, and the match was incredible for its time. In those days, because of the box seats at Sumo Hall being uncomfortable, they would sell pillows to sit on. The euphoric feeling that enveloped Sumo Hall when Muto pinned Vader, a result nobody would have thought possible, led to what was called pillow-mania, with fans throwing their pillows, thousands of them in the air in celebration."
~!~
806) VADER vs. THE BOSS – WCW SPRING STAMPEDE '94 (04/17/94)
One of my all time favorite "bad" matches. Not really bad but it certainly isn't smooth. If one starts to trace a history of Hoss fights, they are going to stop here at some point.
~!~
807) BIG VAN VADER vs. ANTONIO INOKI – NEW JAPAN (01/04/96)
Vader beating the dogshit out of Inoki is one of my favorite things in wrestling. This isn't Vader causing a riot but it is the better match.
Reviewed in DVDVR #121
~!~
808) THE MAN THEY CALL VADER vs. SHAWN MICHAELS – WWF SUMMERSLAM '96 (08/18/96 – WWF World Heavyweight Title)
I probably like this match more than most. Granted my review of it in DVDVR 104 is more glowing than if you asked me about it now. Plus, if you have never seen unprofessional Shawn Michaels… here ya go.
~!~
809) VADER/STAN HANSEN vs. KENTA KOBASHI/JUN AKIYAMA – ALL JAPAN (12/05/98 – Real World Tag League Finals)
The terrifying team of Vader and Hansen decided that if they are going go out, they are gonna go out swinging. Last little bit of greatness that each of their bodies was willing to give.
~!~
810) VADER vs. MITSUHARU MISAWA – ALL JAPAN (10/30/99 – Triple Crown)
Sigh, both are now dead and I am back to being sad.
~!~