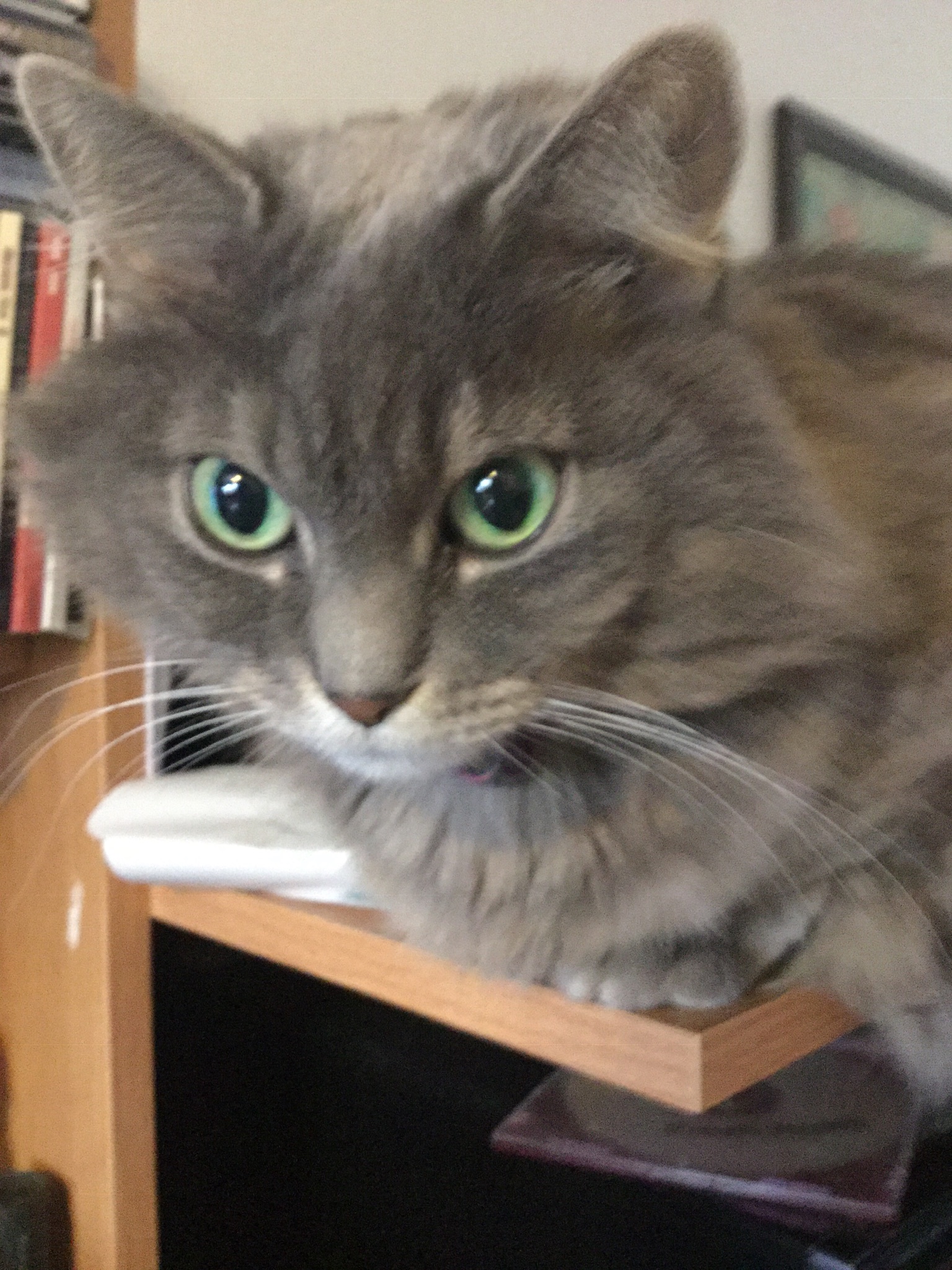 Posts

182

Joined

Last visited
Everything posted by Ryan Faulconer
When Cage Met Page Met Cage Met Page could be easier to arrange than we think. Jason Hotch also has occasionally wrestled for AEW as well. This is only relevant because the other name that he used is…Jason Page. Then there is DDP and his daughter… They could probably get Nicolas Cage on the cheap though. I guess I just really want JR to get all flustered and storm away from the set and into a nice long vacation. His voice and name mean too much to people…the fans without power and the suits and TV execs who have hogged it all for themselves.

Vince's first idea would be Robo recruited by…The Wingmen. This is AEW so…Robo will be recruited for several weeks. The storyline doesn't make It onto Dynamite until the week after Robo turns HFO down. A few weeks later Cody announces the newest Family member, his daughter! Then that same night Cody saves Robo from HFO. A tag is arranged , RoboCody wins and Robo is put on the pile along with the others whom Cody has been accused of helping in the past year.

From the moment Silver & Reynolds first showed up on BTE they they were loveable heels. People who think the DO are full of scrubs unworthy of your attention probably don't watch Dark and Dark(er). Those two teams usually are highlights of both the shows and the tag division as a whole. I never saw Dynamite in late 2019 when they were miscast as heels. The original Dark Order was the former longtime babyfaces Super Smash Brothers - Stu Grayson (aka Player Dos or Stupified) and Evil Uno (aka Player Uno) along with John Silver and Alex Reynolds - who probably have at least 15 years of experience between the two teams. They added 5 and 10 who are practically enhancement guys to take the fall in any match they are in…until recently when Pres10 has been getting a pretty big push up the card. From what I have seen in clips they had a bunch of nameless masked scrubs until 2020 started. When you have a small group they don't earn any extra points when the stable is literally at least three quarters no name goofs and Uno & Grayson. Long story short - this might as well be a new stable in relation to what they have evolved into in 2020-21, some of which changed before the untimely passing of the group's leader.

So….La Boom? Manhattan Center? Hammerstein Ballroom? Rahway? Giants Stadium…MSG~! What about the hole in the wall that used to be CBGB's? I admit to knowing next to nothing about possible NY/NJ venues for wrestling. Kidding aside, Hook should 100% debut in his home prefecture in front of the right NY fans. Undeservedly-so it would make Hook look like a star the likes of which he would have completely lucked into on several levels. Then again one QT Marshall is also billed from NYC. They could totally WWEify the moment as well. This would all be done in service to the Eater of Apples, wannabe Tony Soprano, above average wrestler and below average promo man, QT Mar-SHALL~! I can't remember why I wanted to use a post about Hook as a jumping off point for another AEW discussion. The farcical Hook-is-a-draw misdirection just kind of kept going.

Brock…Aaaasnnnderrrsonnnn,really needed several weeks or segments in one week introducing just where he came from. It was a good idea to introduce him the first time long ago. His name and his face are all that he has so far. I've watched wrestling since '83ish and read about wrestling since '87. While I am sure that is a decent percentage of others with similar and/or longer habits than mine I am almost equally sure that at least twice as many as my ilk don't know much about Anderson's/"cousin" Flair/4Hmen/JCP Or even WCW for that matter. The only problem with giving this Brock such a buildup they should probably have a blue chipper and not a bearded lump of clay. When I started posting regularly again I had been confused as to just where does Cody get all the hate he receives online. Well, I might not agree 100% with the mob…I really understand them now! Cody cannot book angles for all the neck tats in the world. Probably throw the Bucks and Jericho on the crappy angle pile while we're at it. The shows are fun though.

AEW has hired, employed or leased just a little more than thirty new restless since last August. I use those parameters because it was just around early August of 2020 that I decided to dedicate a majority of my wrestling habits towards AEW. That was also around that time that I fired up the Fire Pro World and attempted to run a strictly AEW promotion. During this time a certain one "Pretty" Peter Avalon went from the underdeveloped Librarian gimmick to becoming the leader of The Wingmen. The Wingmen have already evolved in a short time into the DadsThat Club…Club. They will turn babyface if they do their shtick out in front of the live crowds. The Acclaimed will probably turn before The Wingmen due to seniority. Neither act should turn for at least six months, preferably a year. This started out as a simple FYI regarding the thirty or more full timers they have acquired in a little less than a year. People say AEW has a bloated roster. I would argue that the company now has some decent depth from which to draw from. Coach Tony K doesn't want wrestlers to be as badly overused as the WWE usually would on Mondays and Fridays. On Dark they say that Jungle Boy has worked more than anyone else on the entire roster. The loyal viewers who watch Dynamite exclusively would be pretty shocked to hear that. Maybe the Trios Titles can fix a problem I am a huuuge proponent of using multi-man tag/6/8/10++ matches to preserve singles matches for bigger stakes later on. AEW doesn't need to go full CMLL or even the way New Japan gets around that problem. They can go into the tags with a plan for showcasing matchups. When they establish one or more issues that is packaged with action from others in the match AEW will avoid the doldrums of undercard tags from New Japan or the better years from All Japan…hopefully. Thusly! AEW will have enough wrestlers to warrant the added title and/or philosophy.

These shorter Darks have me all conflicted. It seems like there are less enhancement matches. These Mondays/Tuesdays for AEW are all jumbled together in my short term memory banks. In the moment Dark Classic usually has a leisurely pace to the shows. Monday, especially June 2021, shows have more of a rushed feeling as the night goes on. That is probably 99% reflected by the commentators. Elevation has been shorter so far this month.

The Acclaimed always remind me more of the NAO...although the Cena comparison is RIGHT THERE with huge freakin' rims and backwards hats and all that. I'm probably too old to be relevant but I am actually surprised that fans thought Cena was funny, cool or hip at all. I was 27 in 2003. John Cena, pretty much his entire career, has never been funny or cool in ANY of his gimmicks. It was like his gimmick went from Vanilla Ice to larping a pg13-wannabe Eminem to pretty much Christian Rap-style opposite of hip or cool. I know about uncool middle of the road Christian Rap. I was really loving rap from my introduction during the brief breakdancing phase of the early 80s...which I managed to miss entirely recovering from surgery back in grade 2. My brother started playing this other style of rap. The songs had no swearing and the rappers were dweebs. When it comes to gimmicks WWE is all about exploiting popular trends that manifest usually into weak interpretations of that trend by a bunch of old dudes long removed from their target demos. When WCW did it they were even more out of touch. ECW and ROH tried a little harder and got gimmicks that were sometimes relevant as opposed to WwE/WCW who are usually always lame. Anyyywayyy, Caster and Bowens seem more comfortable and natural as one week flows into the next. The pre-match rhymes can probably work as heels or babyfaces. The raps that should change are in the rather funny videos aired during Dark. Caster comes off as a delusional heel when he had more time and varied cadence in the rap.

Elevation tonight has Jungle Boy vs JD Drake.

What is up with all the injured lately? First there was Anna Jay, then it steamrolled with Bear Boulder, Darius Martin, Da Meat Man, Kip, The Butcher, Ricky Starks and I think one of them Gunns.

10 wins is 10 wins is 10 wins. What is the problem? IF fans/non-fan viewing audience don't watch at least some matches from Dark/Diet Dark how do you know they haven't earned their rank/wins? There are usually pretty good matches on days besides Wednesday/4 Sundays a year. AEW could fudge things a little by making a Top 5 ranking for the TNT Title. We could get into problems with someone being "first among equals" with separate rankings if they added another contender list. AEW theoretically wants to be different from the last twenty years. Endless rematches are on the other channel. Super pushes like Jinder or JBL don't come out of obscurity to win the top titles. In boxing the champ fights someone besides the most obvious challenger in a majority of their defenses. AEW has only had shows for two years. They don't have a history to draw from in feuds or rivalries. There are only so many upper Midcard or higher. If you aren't Moxley, MIRO, Archer, Cody, MJF, Jericho, Hangman, Kingston, Christian, Darby, Omega or Rey Fenix you have less than zero chance at the AEW World Title. Split that list in half if you want that match in doubt at all. The rankings are what they are. The Top 5 is just giving guys that aren't considered stars by the masses who need some storyline credibility. AEW could fix a lot of things. The Top 5s are fine like they are. Hopefully, if the Blondes can win this week the tag division will open up a bit more. They will definitely lose star caliber title matches. If the Bucks lose they can have a lot more parity after you get past YBs and FTR. Of the thirtyish regular working tag teams there is the top two and then maybe at least ten more teams that would be good challengers. FTR and the YBs need to put some teams over or they will always be the only full time teams worth the gold.

As soon as I heard Julia Hart announced I could only think of one thing - Intergender 6 Person Tag Team Titles! Then again there is a trio of babyface women together for no reason at all. Varsity Blondes and Julia Hart was about as random a pairing as Jon Cruz coming out with a dressed up Skyler Moore...and whoever Cruz was teaming with on Dark that night. It just made zero sense. Then I stumbled onto the news that Cruz and Moore are MARRIED??? It just made zero sense...but good work punching above your weight, Mr. Serpentico! I've seen backstage shots of the couple - she has size, he most certainly does not. I don't know if I like JD Drake's new gear. If they wanted to get away from the dark trunks n' Boots combo they should stay with the singlet that he wore on Dynamite against Darby AllIn. While I enjoy the interactions within Pretty Picture they will be saddling a potential ass kicker with the comedy relief role. The good thing about AEW is wrestlers can still put on good matches regardless of the tone of their character. Everyone gets time to shine as a rule in Tony K's America...n wrestling. Almost every match is a bit longer than it really needs to be in AEW. Every match does not need near falls!!! I'm surprised it hasn't been something Cornette harps about on his podcasts. I really don't think the exchange of near falls needs to occur in every single match that isn't a complete and total squash. Some levels of talent shouldn't be getting any near falls on the likes of Omega, Matt& Nick, FTR, Jericho, MIRO, Hager, Wardlow, Cody and a few others. Not all these guys should be main eventing but their gimmicks imply a level of reverence by the viewer due to implied credibility from talent, strength, experience and/or a level of mystery.

The strange thing is that I don't think Cornette is conservative at all outside of his wrestling opinions. I wouldn't be the first to admit that I have no idea what Jim Cornette is like outside of wrestling discussion. Someone that gets as upset as he does about Kenny Omega of all triggers...a guy like that has to think that music has sucked since his formative years were over. I'm not even positive Cornette has interests beyond being a grumpy curmudgeon. Alll he cares about is older wrestling, defending it and religiously crapping on very specific aspects of modern wrestling....and apparently swinging(?) with his wife. Wrestling, swinging and...hamburgers! There are definitely a LOT worse things to occupy Jim's later years.

I'm almost always facetious when I refer to AEW's booker by anything besides Tony K. The WON award is just thrown back in Tony K's face for ridiculous reasons. Being X Winner of the Year is only for that year, theoretically. Tony Khan's more vocal critics act like his win is a lifetime achievement award. If you want to take the credit from him then look at it as more of an indictment of the wrestling industry in 2020 and modern booking in general. Booker of the Year can be less of an award and more like a Not WWE Award that people will win on occasion partly ou of spite. Coach Tony K might not be 2020's Best Booker but he was the most known creative voice for a promotion that had a lot of upside - even sight unseen people would rather hope for newer different wrestling than they would vote for the mainstream professionally run organization (or MMA) that would normally win.

What is up with people complaining about missing matches but then refusing to watch the Dark shows online? Twenty years of WWE setting the "standards" for televised wrestling promotions has just killed viewers' ability to see wrestling in any way than the WWE way. Is Cornette's main gripe with Kenny Omega that he cancelled a booking for FB2008? Omega gave fair warning but gave a bullshit excuse complete with fake pictures of a supposed injury. It just seems like Cornette gets a gripe with someone and then he builds his brand around it long past it becoming redundant. I do enjoy Cornette's advice for making shows better. He might have illogical beefs with buzz-worthy names in wrestling but he knows what makes good wrestling. One of his major faults pops up whenever he watches something modern day. He has staked his reputation on his ability to draw on his experiences taking part in good wrestling for twentyish(?) years or so. One of his major flaws lies in whenever he talks modern wrestling. He just does a routine of hate watching shows like Dynamite where he throws his shit blanket onto almost everything in AEW through. He clearly can't tell what bad wrestling is at this point in his relevancy. Cornette has honestly become the Robot Santa from Futurama. He judges nearly everything as bad on almost every big ARW show he watches. "Booker of the Year" actually booked TWO (2) tag teams for the Dark Quagmire with the same name...sorta. In recent weeks the team of Jay Lion & Midas Black plus Duke Davis & Ganon Jones were used as underneath types. The thing is BOTH teams are called The Mane (Midas/Lion) Event, The Main (Duke/Ganon) Event. Does he get his enhancement players alphabetically from his Rolodex? Coincidence or not Coach Tony K doesn't deserve to fold the flaps on Ken the Box's...boxes.

It is a TNT tradition dating back to the flagship event back in 2000. The man who brought war games to TNT is of course, Vince Russo! Truthfully, they killed the gimmick the previous year. A three team war games ruins the concept. Having it end with the ONE person making the PIN(?) That ONE person in a team event then received a title shot. What the...why did WCW allow those idiotic stipulations on a regular basis? WCW had several matches over the years where it was said to be every man for himself. It would be legal to pin a member of your own team. I swear sometimes those stips also allowed one team member to win the title held by a teammate. There were some NWO era matches as well as ones from the Russo era. It is almost like we really can't blame Russo for that 2000 War Games when WCW made nonsensical stipulations in War Games or title matches was some bastardization of the rules that WCW can lay claim to without need to invoke the name of Russo. ...that 2000 version of War Games was just the perfect storm of awful ideas. Maybe tonight a memorable show will help us bury those truly awful WCW ideas for good.

AEW hired Mike Tyson, convicted rapist. I really hope they don't do any grandstanding when Tessa eventually signs with someone. They don't have the moral high ground simply by not hiring someone who might be a locker room distraction. They employed a convicted rapist who most likely abused his then-wife, Robin Givens. Then he went just a LITTLE nuts for a few years after the biting sting of losing after biting Sting...I mean Holyfield in 1997. Mike Tyson in the 90s was a bad dude. I don't mean that as some sort of colloquialism for "badass". They could have approached any number of boxers or MMAers who haven't been convicted of rape. They could have even debuted MIRO in the Tyson spot...which would have been awesome if the timeline matches up. A women's division with Shida, Nyla, Abadon, Tay Conti, Dr. Britt, Thunder Rosa, Allie/The Bunny, Leyla Hirsch, Statlander, Penelope Ford, Red Velvet, Shanna, Jade Cargill and Anna Jay and Serena Deeb back from injuries eventually PLUS the ladies from Japan (Mizunami, Sakura, Riho, Maki Ito, Yuka Sakazaki) still needs one or two workhorses like Deeb or Rosa - especially since Thunder Rosa isn't officially #allelite yet. It would be a better deal to sign a couple from Chelsea Green, Peyton Royce/Cassandra, Jessica McKay or others. They need one of the women that worked AllIn or later shows as one offs or twofers. One of those women was Tessa Blanchard...so we are back to that...There are some good prospects among the cavalcade of ladies that appear on Dark and its spin-offs. Women like Leva Bates and Big Swole are not filling that Christian Cage role either. Is Awesome Kong ever wrestling in AEW again or is she a full time coach and actor in 2021? Mel hasn't been relevant possibly ever but she also never wrestled. She could be a lady hoss but so many other big and tall ladies have shown more with less screen time. Brandi and Big Swole are too inexperienced for the level of push each has had in the past. Sadie Gibbs impressed me in the Dark period before COVID-19. It's too bad she was released and is recently retired. She had some great athleticism, IIRC. Was it her who splat landed off an attempted Sasuke Special/Space Flying Tigrr Drop on Dark more than a year ago? I think she came up short on the dive AND Nyla(?) didn't catch her at all. Where is Bionic J when you need her?

Quality sarcasm. I'd rather be seen as out of touch with current gossip from the kids these days. I was worried more about being confused as someone with similar beliefs as someone who is a conspiracy believer or those who don't believe there is racism or inequality in society. The sad thing, that we can actually speculate, is that a Tessa/Daga twofer would probably involve turning Dr. Britt Baker to babyface. She might be able to make it work. Britt has a lot of goodwill with fans after the awesome match against Thunder Rosa. Fans probably want to cheer her. Online buzz alone turned her unofficially. Those fans that love her hopefully love her for who she is - a bad guy. WWE makes that mistake every time there is a ground swell for a popular heel. WWE never lets them turn with the same motivations that influenced their popularity to begin with. I would hope that Tony K would recognize the difference. He used to post here, when do we get a Ken the Box is All Elite tease? Okay, maybe that is a box too far but I think Tony K realizes the problem with the way WWE has turned 90% of its roster for thirty years or more. I think they should sign her anyway. Maybe they have already written a way around their two best women both being heels. If they haven't then they should really brainstorm ideas before she might debut...and overshadow most of the women's locker room. Just keep her from squashing the Leyla Hirsches, Anna Jays and Tay Contis on her way up through the Top 5.

I am not the focus of Tessa Blanchard's controversial moments. It doesn't affect my life or sense of well-being and/or safety. Most of us are probably similarly singularly minded. Tessa and even Daga are more talented than many in AEW. If Tessa doesn't have any criminal or other cases against her legally then she should be given a chance. While it would be great if AEW could be the San Antonio Spurs of pro wrestling most organizations lack similar moral standards. Keep all the unprofessional disruptive and racist people out of wrestling that we can. Does Tessa Blanchard working for a pro wrestling company in 2021 really warrant a backlash or boycott? As mere fans we probably can't comprehend the terrible things that wrestlers have done in the past. Shawn Michaels' crazier days probably would turn him into a cancer on the industry among the bigger "critics" from Twitter, which is ALWAYS fair and comprehensive. How many stories are out there chronicling TB's path of distinction. If someone is a racist prima Donna who won't job or do business then they shouldn't have a spot in wrestling or AEW in particular. Is there enough evidence (or "internet" evidence/articles) to back up the rumors/gossip from the Twitterverse. Twitter is just the poor man's Usenet. #rspw or #rspw-m didn't have the same saturation so the newsgroup didn't get credibility that millions more nut jobs from da Twittah provide. Speaking of which, how is Jericho not on top of everyone's shit list? Okay, I know why a segment of America won't but it just seems like Jericho has a lot of problems when he opens his mouth outside the ring. Those problems are much easier to read about than Tessa's. Then again there has to be some reason that she doesn't work somewhere in WWE by now. They like to think they can mold and shape the bad out of someone. Sometimes that results in an unusually short stay. Sometimes they make the main rosters because they care about talent more than character.

I read the name "Cage" as "Gage" and I was a little worried but also a little intrigued at how Nick Gage would work on a mainstream wrestling show. Am I seeing things? M the M didn't look like that way back in Lucha Underground, did he? There are a number of new faces on Dark Tuesday night. Do they just use whoever shows up at Daily's on Wednesdays? It actually looks like some of those new faces (or heels) are from Atlanta. I guess we know where they came from...Kris Zellner's house! Probably after listening to that little OutKast performance group. That is about as much about Atlanta as my brain can process....and then there is the school run by Cody and QT, obviously. I have warmed up to our little announcing project that is AEW Dark Elevation. I still prefer o.g. Dark's announcers but the two teams are really performing different services for the listener. Tony and Paul sound more comfortable together after seven weeks. Excalibur is really the prototype style-wise that I want all my 2021 play-by-play person to personify. Tony can drift into generic wrestling announcer on occasion but Paul keeps things relevant to this decade.

Those two tag teams have ALWAYS wrestled like they do currently in AEW. They aren't super serious focused characters. That was one of those things that I really disliked about both teams when I originally saw them in promotions like ROH, Chikara, PWG, Dragon Gate USA and EVOLVE. The former Beaver Boys (Silver/Reynolds) and Super Smash Brothers (Uno/Greyson) wrestled like serious ass kickers in the ring while their "characters" are goofy (Silver), two video game personalities who dialed it WAAAAY back to nothing and Reynolds was a blank slate who complimented Silver's style while tacitly encouraging and adding to Silver's silliness. Long story short - what you see is what you get. They formed these characters over the last 5-10 years. They work fast paced matches, usually as a team. Either team is championship material in AEW. Having said that I definitely think Su Grayson could mature as a gimmick into more of a reflection of his violent in ring persona. Silver just has too many eccentricities. His look, size and power move set are in conflict with each other. That struggle is going to keep Johnny Hungy probably exactly at the level he is. What I think the Dark Order's real problem is Negative One. Adam Page should be the eventual leader. Whether -1 is actually the leader officially or not his presence steals focus of every match he accompanies. They should keep him as a member but keep him away from the ring. He can do pretapes and cameos but he can't be out front at all. People freaked out online when he was merely blood adjacent. They overreacted, obviously.

I just looked him up on cagematch. Alex Abrahantes was trained by the Harts! That is....random.

Damn! I totally missed the graphic typo. I just thought that you had made a typo, which is easily done and not worth mentioning unless it is a super meta situation like this one. Swiss w/tomato on rye was my default in university.

Most of the stables are merely sets of trios. They have over thirty regular tag teams. A good percentage of those teams are part of a trio. If stables are only the teams with a gimmick then that gives us The Factory, Peter Avalon and Pretty Picture, Team Taz, The Pinnacle, The Inner Circle, Gunn Club, Jurassic Express, Death Triangle, Dark Order, The Elite, Hardy Family Office, Best Friends and whatever team Cody and the Nightmare Family want to contribute. That really isn't too many stables to follow. At least half of those groups rarely works Dynamite. Some never work as a group while the ones regularly on screen are all distinct gimmicks. It is easier than keeping rack of a hundred singles wrestlers. In a promotion that keeps track of records they need guys who eat those losses for the mega pushed.

I' m pretty sure it was mentioned both on the show and in this thread BUT of the popularity of the grilled cheese sandwich I will answer your question... Alex Abrahamtes is usually the regular Spanish language announcer for AEW, part-time BTE character and Penta El Zero M's interpreter/translator. There are rumors that he is not translating Penta's words honestly. He MIGHT be using the position to get over his problems with Cody. Penta wants to fight Cody but it is Alex who added the insults that pushed Cody's buttons. Adding tomato to regular grilled cheese is a good introduction to fancier grilled cheese. There is/was a Grilled Cheese restaurant the last time I was in Toronto. The clubhouse twist on grilled cheese was excellent.