1001 MATCHES: This Was A Thing Once
(by PHIL RIPPA)
Sometimes in wrestling – there will be things were you will be like "Oh yeah – I remember when that was a thing once". And then you forget again because you are old.
---
527) BUNKHOUSE BATTLE ROYAL – WWF (01/03/87)
https://youtu.be/j2VN4cwsEcc
For some reason, one of my vivid memories of the WWF Magazine was the article they ran on their version of the Bunkhouse Stampede (because Vince clearly had to stick it to Dusty for reasons). You could see everyone in whatever they decided was good for a fight, including Lanny Poffo in a suit of armor (Someone helpfully scanned the whole article so at least for once I am not a crazy person). This is not the match from the article but you get the gist. In fact this is very much the house show Bunkhouse Battle Royal as half the guys clearly don't want to be there. But Poffo is in his suit of armor and that is all that matters.
~!~
528) ANTONIO INOKI vs. MASA SAITO – NEW JAPAN (10/04/87 – Ganryujima Island Death Match)
http://www.veoh.com/watch/v94866453pWS6b9qB
Inoki – because he is a crazy person – was all CLEARLY I AM AS IMPORTANT TO JAPANESE HISTORY AS THE SWORDSMAN OF THE 1600S SO BACK TO THE ISLAND!!!! And off he and Masa Saito go for over two fucking hours.
~!~
529) CHRIS ADAMS vs. BOB ORTON JR – AMERICAN WRESTLING FEDERATION (1995 – AWF Heavyweight Championship Tournament Semifinals)
I don't know why attempting using the rounds system on US soil in the mid-90s was a thing but here we are. Dean claims that some random Chris Adams/Fidel Sierra match that was the best match from this fly-by-night fed. That I can't find anywhere. Here are Adams and Bob Orton Jr having a fine match amongst a glut of squash matches. Don't confuse this with the 48 other AWFs that have popped up over the years.
~!~
530) LOS VIPERS (HISTERIA/MANIACO/MOSCO DE LA MERCED) vs. VENUM & LOS CHIVAS RAYADAS  – AAA TRIPLEMANIA V-B (06/15/97)
Yup – the soccer playing wrestling goats. Yup – they have an actual goat with them in the ring. Los Chivas Rayadas were the Apaches (at least at the beginning who the fuck knows who they were as they went along).
~!~
531) BODYGUARDS: HIGH VOLTAGE (BO VEGAS & DEVON MICHAELS)/DOM MINALDI/MARC VALIANT/SCOTT PUTSKI/STEVE COX vs. BANDITS: ALEX PORTEAU/FIREBREAKER CHIP/GUIDO FALCONE/JOHN HAWK/ROD PRICE/SHAWN SUMMERS – CONFEDERATE WRESTLING ALLIANCE (05/01/96)
Oh my God – how so I explain this? It is a match held at Alcatraz with a team of Bodyguards (the faces managed by Ivan Putski) vs. Bandits (the heels managed by Skandar Akbar) with "football" rules. Meaning it is a full 60 minutes with 15 minute quarters.
Dean reviewed this in DVDVR #125 and you need to read it to understand everything that is going on
For Example
"The color commentator is the Angel of Death. And one other thing- the color commentator is the ANGEL OF DEATH. The crowd chants U-S-A out of sheer patriotism or Skandor Akbar IS an actual HEAT MAGNET~! I'll have to rethink this. (I WILL WATCH THIS THIS MATCH NOW.) WELL. They did not fudge the clock at all. They went a legit hour. Actually, they went longer because of overtime and you also had the fabulous VIDEO at halftime! It's funky fresh and def and shit. "Alcartraaaz! Gonna Rock! Alcaatrazzz! Gonna Rock!" Boom Boom Mancini walks around looking in the cells. It's all poignant and shit while Dom Minoldi and Akbar's bodyguard push each other around. Then they interview a guy who served ten years on the Rock- just like a regular football halftime show. That part was kinda interesting and looked like the whole reason Boo Boom Mancini is on this thing."
Someone please upload this to the internet. Pretty please?!?!?!
~!~
532) STEVE WILLIAMS vs. BART GUNN – WWF (07/27/98 – Brawl for All Quarterfinals)
https://www.dailymotion.com/video/x1yxykm_raw-07-27-1998-brawl-for-all-steve-williams-vs-bart-gunn_sport
At this point I doubt I have to really explain too much the backstory of Brawl For All. But if you watch one match from it just so you can check a box – this is the match to watch. Then you can find the gif of Butterbean knocking Bart Gunn's soul out of his body. Heck – I will do it for you.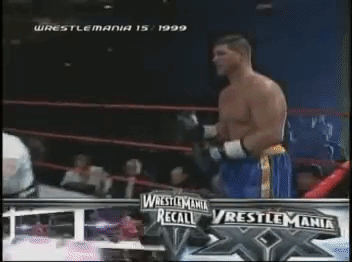 ~!~
533) BULL PAIN vs. SOULTAKER – KICK ASS WRESTLING (1999)
Yup – this was the TV taping that was done in the women's prison. God Bless random Memphis indie IWA Mid-South clones. God Bless Bull Pain. And just to make sure everyone understands – this Soultaker is not Charles Wright. Man – the WWE would kill for a crowd this hot nowadays.
~!~
534) EL CONSADOLE vs. FM TARO – ZIPANG WRESTLING (08/14/00)
Just a reminder that bizarro Japanese wrestling was not confined to just Survival Tobita. ZIPANG~! is a federation I haven't thought about in a month of Sundays. FM Taro made a 500 or two – probably just because we actually saw he was a real human. Jury is still out on El Consadole.
~!~
535) BIG VITO vs. BUFF BAGWELL – X WRESTLING FEDERATION (11/13/01 (Taping))
XWF was too be the WCW replacement federation. Jimmy Hart and the friends of Hulk Hogan did a marathon taping at Universal Studios so they had shows to sell to a Network. Problem was that pretty much the second the tapings ended Vince McMahon brought Hogan, Curt Hennig and Roddy Piper back to the WWE (along with Jerry Lawler returning to commentary.) So basically Hart was left holding the bag trying to pitch a show filled with guys who wouldn't be on future episodes. (The Hulk Hogan vs. Curt Hennig match is the match I would have liked to pick but that has never made the light of day). Anyway – they eventually released three DVDs of stuff. This is the first one and the first match. You can kinda watch it all as Hart and Brian Knobbs basically whine about never getting a chance throughout the whole thing.
~!~
536) NEW JACK vs. VIC GRIMES – XTREME PRO WRESTLING (02/23/02 – Scaffold Match)
The time New Jack legit tried to kill someone. No, not that time. No, no that one either. No, the other time. It really should be no surprise this happened in the fed with the porn connections where Rob Black and Lizzie Borden legit spent time in jail. Yup… par for the course with this fed.
~!~
537) ULTIMATE WARRIOR vs. ORLANDO JORDAN – NU WRESTLING (06/26/08 – NWE Championship)
Ultimate Warrior's first match in basically a decade (and it showed) in Barcelona for an Italian Wrestling Federation.
~!~
538) AUTUMN FROST vs. PAIGE WEBB – WRESTLICIOUS (03/10/10)
So what would you do if you won $35 million dollars via the Powerball Jackpot? If you answered, start a women's wrestling federation than your name is Jonathan Vargas. This new generation GLOW was… well a new generation GLOW for better or worse. Here you have two folks who at least know how to wrestle (including Dean's dream wife of Serena Deeb).
~!~
539) ROCK 'N' ROLL EXPRESS vs. KEVIN NASH/DIAMOND DALLAS PAGE – AWE LEGENDS "NIGHT OF LEGENDS" (10/15/11)
The people who point to Heroes of Wrestling as worst PPV clearly never watched this fiasco. I still don't understand why the folks at Awesome Wrestling Entertainment thought it was a good idea to run a PPV but this was the early 00s and everyone thought that PPV was their ticket to a successful promotion. This is a nightmare. Nash is supposed to have a "mystery partner" which everyone knows is DDP because he has been advertised on the show forever. Then the match goes about a minute and then due to sports entertainment turns into a Kevin Nash vs. Ricky Morton match with basically the two of them cutting shoot promos on each other (You can find most of this via simple Google searches). I probably should point out that it is all based on a Ricky Morton shoot interview too.
~!~
540) HOMICIDE vs. RICKY REYES vs. RASCHE BROWN vs. BESTIA – URBAN WRESTLING FEDERATION (11/06/11 – Elimination Match, Finals of UWF Street King Title Tournament)
The Urban Wrestling Federation was supposedly an infusion of wrestling and hip hop. They taped 5 one hour PPVs at the Hammerstein Ballroom and used basically guys you would expect them to use (Homicide, Eddie Kingston, Monsta Mack, 2-Dope, Ruckus, et al) along with dudes who have fallen off the face of the Earth. Julius Smokes is on commentary. I am far, far too white to fully understand what the fuck is going on. Really though you could watch them all and be greatly entertained for probably all the wrong reasons. They ran a random PPV this year out of the blue too.
~!~