1001 MATCHES: Harley Race
(by PHIL RIPPA)
When I was putting together the Schneider Comp tape theme – I was searching the Master List to make sure I hadn't picked the Jumbo/Harley match before. Turns out – that was the first Harley match to make the list. I am changing that now. Harley is the best but, ya know, he no sold that piledriver that one time so he is the worst worker in the world.
---
336) HARLEY RACE vs. GIANT BABA – ALL JAPAN (12/09/75)
Middle aged angry Giant Baba was awesome. This is a whole mess of fun. Plus get used to Harley bleeding a lot.
~!~
337) HARLEY RACE vs. JERRY LAWLER – (12/11/77, NWA World Heavyweight Title)
Pack a lunch because Race and Lawler go a hour. You will either hate this or be all over it.
~!~
338) HARLEY RACE vs. DICK MURDOCH – MID ATLANTIC (07/02/78, NWA World Heavyweight Title)
Another quasi-Dean request as he says he saw this same match a year earlier in Little Rock, Arkansas. (Shh…. we aren't going to tell him that Race and Murdoch never had a title match in Little Rock.)
~!~
339) HARLEY RACE vs. ABDULLAH THE BUTCHER – ALL JAPAN (11/10/79, NWA World Heavyweight Title)
https://youtu.be/OrIDbA25DQ0
Not a match per se as Harley and Abby do what Abby and Harley always did in Japan. Bleed and brawl. This is not the match that Harley talked about that almost got him and Abby banned from Japan. That was a DIFFERENT wild brawl.
~!~
340) HARLEY RACE vs. RICK MARTEL – PORTLAND (01/12/80, NWA World Heavyweight Title 2 out of 3 Falls)
Harley visits the Pacific Northwest to take on baby Rick Martel. This match kicks off the DVDVR 80s Portland set so consider this a teaser for that too.
~!~
341) HARLEY RACE vs. BOB BACKLUND – WWF (09/22/80, WWF vs. NWA Title Unification Match)
Historical significance alert as this is Champion vs. Champion, WWF vs. NWA winner take all match. So yeah… you can kinda see where this is going.
~!~
342) HARLEY RACE vs. RIC FLAIR – NWA (02/28/82)
A wild match that went in a totally different direction than I expected. Finish is AF as the kids would say.
~!~
343) HARLEY RACE vs. KERRY VON ERICH – WORLD CLASS (06/04/82, No DQ)

From Fritz Von Erich's Retirement Show, Harley and Kerry (before he dived deep into the pills and booze) fight all over Texas Stadium. Another reminder of – with all the greatest wrestlers that Kerry did and was gonna work – what could have been.
~!~
344) HARLEY RACE vs. KEVIN VON ERICH (06/17/83, NWA World Heavyweight Title)
First – the match itself starts about 3 and a half minutes in on the clip above. However, the video does begin with Kevin Von Erich and Michael Hayes talking about the set-up for the match.
Second – this match finished 5th in the Texas Best of the 80s voting.
Third – they really want you to know that Kevin had been preparing for Ric Flair but Race messed everything up by winning the title a week earlier.
Fourth – David Von Erich is a dirty cheater.
~!~
345) HARLEY RACE vs. BARRY WINDHAM (07/04/83)
IT IS MOTHERFUCKING BARRY WINDHAM!!! Fun times with a really good finish AND post match angle.
~!~
346) HARLEY RACE vs. ICEMAN KING PARSONS – WORLD CLASS (10/7/83, NWA World Heavyweight Title)
Different sort of match for Harley but it doesn't mean the quality is any less. Worth it just for Harley bitching about Parsons dancing and David Manning being the ref. Well and this…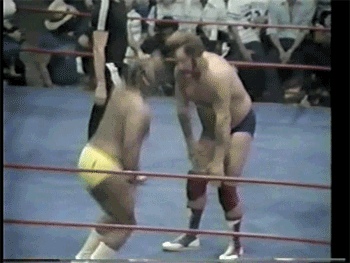 ~!~
347) HARLEY RACE vs. RIC FLAIR – ALL JAPAN (05/22/84)
https://youtu.be/6wQjUUlEPFI
I break the one match per feud rule because this match is the polar opposite of the other Flair/Race match in this section. This one is much closer to what you would picture a match between these two would be.
~!~
348) HARLEY RACE vs. HULK HOGAN – WWF (06/14/87, Texas Death Match, WWF World Heavyweight Title)
http://www.dailymotion.com/video/x3url9_hulk-hogan-vs-harley-race-texas-dea_sport
I was overly harsh on this match back in DVDVR #101 but to be fair, I also wrote this 20 years ago. Things change. Just remember, you are "staying at your own risk".
~!~
349) HARLEY RACE vs. HAKU – WWF ROYAL RUMBLE '89 (01/15/89, Battle for the Crown)
http://dai.ly/x62mdj
Harley loved Haku so much that he hand picked him to pass the King crown onto and then put him over in what turned out to be one of Harley's last WWF matches (it might have been his last but I am sure if I say that someone will point out like a house show or something.)
~!~
350) HARLEY RACE vs. TOMMY RICH – WCW GREAT AMERICAN BASH '90 (04/07/90)

http://dai.ly/x6jtin
For reasons unknown outside of "WCW", Tommy Rich and Harley Race are sent out to have a match with each other on a PPV with no build. So they go out and beat the hell out of each other for 6 minutes.
~!~